Coupled social-ecological systems associated with Mexico's small-scale fisheries
Our project focuses on the coupled natural and human coastal marine systems of the Gulf of California, in northwest Mexico. By developing an interdisciplinary framework for understanding coastal marine environment-society connections in this region, we are generating information to help inform innovative marine management strategies in the Gulf and other coastal and marine areas worldwide.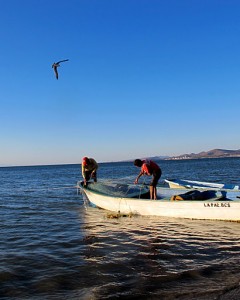 Guiding research questions include:
What are the key ecological, institutional, and economic linkages among the coupled natural and human systems of the region?
What is the broader social and ecological context within which small scale fishermen in the Gulf of California, and particularly in the La Paz region, operate?
What are the implications of this emerging knowledge for policy and management?
To learn more about the project, please see the website for our collaborative group, MAREA.
Project Leadership Team