Animal and Veterinary Sciences student works in South Africa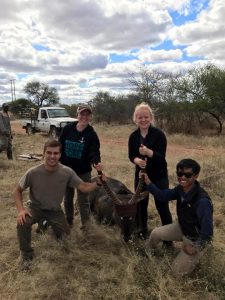 Kyle Alamo (right in photo), a junior in the Animal and Veterinary Sciences program, minoring in Zoology, worked with wildlife veterinarian Dr. Louw Grobler of FishEagle Wildlife Services in South Africa during the summer of 2017. He was joined by three other Pre-Veterinary students from North Carolina, Georgia, and Hungary. There they assisted in veterinary work out in the field, working up close with a range of wildlife species in unpredictable locations.  The students assisted in medical work, game captures, immobilizations and relocations, all in the rural "bush" of the Limpopo province, either out in the field, in truck beds, or by helicopter since wildlife veterinarians don't practice in clinics.
After his return to Maine, Kyle worked for the Chewonki Foundation in Wiscasset in the Traveling Natural History Department as the Wildlife Center Technician caring for various owls, reptiles, amphibians, and snakes that have been rescued or rehabilitated but can't be released to the wild. These animals are part of a wildlife education program that teaches people about the natural world, using live specimens as part of their curriculum.
Kyle is currently vice president of the Ewe-Maine Icelandic Sheep Club and president of the UMCLUCKs Poultry Club. He found that many of the skills, techniques and animal-handling principles he learned working with sheep, poultry, and many other experiences at J.Franklin Witter Farm, helped him in caring for larger African animals and various exotic species. Applying comparative anatomy and the concepts of animal science, he could transfer his experiences in the Animal Veterinary Sciences program working with domestic animals to wilder species. He is hoping to apply his experiences into a career in veterinary medicine.