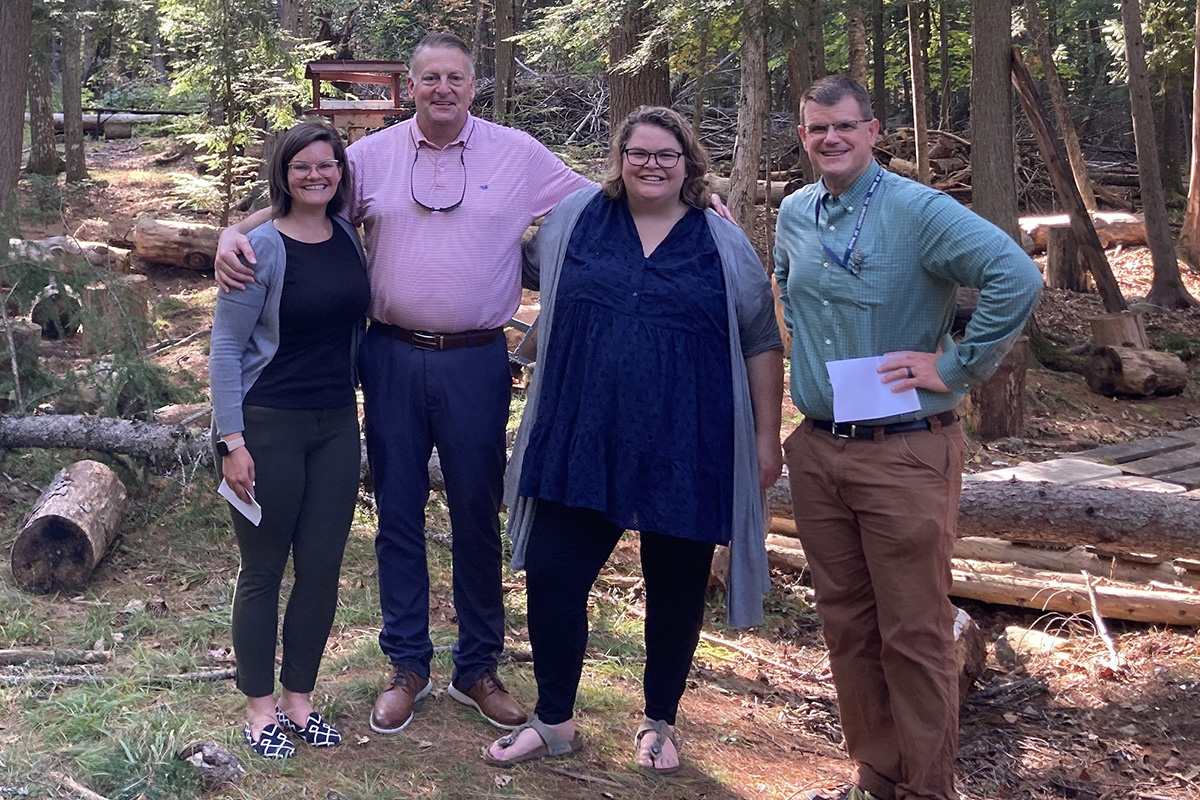 Deep roots in rural education: RSC celebrates New England Rural Education Hub visit
This post originally appeared on the Rural Schools Collaborative website. It has been republished with permission.
Amidst an unseasonably warm fall week belied by blazing fall colors, the RSC team recently returned from an inspiring and exciting trip to Orono, Maine. RSC's New England regional hub, led by the University of Maine, serves as a beacon of support and collaboration for local rural schools and communities. Along with Allen Pratt, the Executive Director of the National Rural Education Association, the RSC team both learned about exciting existing programs and began to chart encouraging future pathways.
Leading the new hub is Dr. Cat Biddle, a passionate leader of the University of Maine's rural education initiatives and ardent researcher. Cat's work revolves around the confluence of school and community, including addressing trauma in schools and promoting the overall well-being of students and educators.
Her dedication to research is supporting innovative solutions to the unique challenges faced by rural communities, making her a natural fit to join the RSC's collaborative: "I'm looking forward to the opportunity to collaborate with other RSC Hubs and sharing the incredible work that teachers and leaders across the region are doing to support rural schools in New England."
The University of Maine boasts a robust history supporting rural schools across the state. Initiatives led by the College of Education and Human Development assist rural communities, nurturing excellence in remote areas. Focus areas include rural STEM and teacher preparation, empowering future educators to work and thrive in the unique context of rural settings.
Looking to the future, RSC is excited to continue to collaborate with the University of Maine on the recruitment, retention, and support of new educators through the launch of a new Rural Teacher Corps. Recent recipients of the $25,000 Catalyst Initiative Grant, the University of Maine aims to deepen their support of rural teacher education programs. The Catalyst Grant will assist with the planning of rural teacher support pathways unique to Maine's emergent teachers, including nearby indigenous communities.
To truly appreciate the impact of the University of Maine's work, we explored two school districts that exemplify the intention to center schools within their communities, emphasize place-based education, and empower both students and teachers.
Katahdin School District: Stacyville, Maine
Dr. Marie Robinson, a dedicated former principal and the current superintendent of the Katahdin School District, embodies leadership that quite literally transcends the walls of the school. Her active involvement in both the community and the school district has empowered teachers and students to lead a place-based overhaul of the curriculum.
We first met with Dr. Robinson inside a recently-built pavilion outside of Katahdin Elementary School, with a colorful backdrop of young learners engaging in outdoor learning. One of the shining examples of Dr. Robinson's work is the creation of outdoor learning spaces. Here, students actively participated in designing a trail system and series of outdoor classrooms, utilizing the ample space and natural beauty that Maine has to offer. Any staff member (not just teacher) who wants to lead an outdoor education program will receive a stipend for their efforts, further widening the student's educational community and bringing in additional perspectives. Their efforts to create outdoor learning spaces were also supported by the community, whose contributions ranged from bringing in seating stumps to clearing trails or building signs. The partnership not only enhances the educational experience of the students, but also allows learners to be active participants in their outdoor curriculum, giving a sense of community pride and agency.

Another noteworthy initiative in the Katahdin School District is the establishment of school gardens. With the support of FoodCorps, multiple raised beds provided a bountiful return that was still producing in early October. Kindergarten students were tasked with picking beans as a mechanism for practicing counting, and were eager to show off their harvest to the visitors.
There are plans in the works for expanding the garden efforts to include a greenhouse and a water collection and transport system, further expanding and strengthening the connection between education and the environment. In Maine, Dr. Robinson explained, many students don't see a future for themselves in the rural communities they grew up in. Connections to place open up emotional and employment doors that keep kids as a part of these communities.

Speaking of cross-regional collaboration, Allen Pratt of the National Rural Education Association, and a Tennessee native, was able to help the young students and teachers identify the type of beans growing in their school garden. "What you have going on here at Katahdin is special, it really is," noted Allen.
Across the road at Katahdin High School, RSC visited a Language Arts classroom which fostered a natural partnership between outdoor education and language arts. For these students, a day spent continuously sitting inside is a challenge when their natural interests lie outside of the walls of the building. New curriculum has paired select readings with outdoor activities like shelter building and fire starting. Discipline issues are near non-existent since the adoption of outdoor programming, and students ask to go out, even in the rain.
Old Town School District
In the Old Town School District, the dedicated assistant superintendent, Jon Doty, illustrates efforts to enrich community connections and promote place-based learning opportunities. Old Town, situated just north of Bangor and the University of Maine in Orono, is perhaps best known for lending its name to world-renowned canoe maker Old Town Canoe. The district includes the nearby towns of Old Town, Alton, and Bradley, providing a snapshot of a district with both rural and suburban identities.
As is the case in many rural school communities, Jon wears many hats, including bolstering creative partnership with groups like University of Maine, contributing to partnerships to raise rural student aspirations, and grant writing for projects to better serve the area's students. And, as is also the case in many rural school communities, teacher vacancies continue to be a challenge in the region. There were 62 teaching positions, 58 Ed Tech openings, and 7 unfilled administration jobs within a 25 mile range at the beginning of the school year, underscoring the need for efforts like UMaine's Rural Teacher Corps, and Jon's collaborative work in Grow Your Own partnerships.
Despite staffing and funding challenges, assets also abound at this district. A noteworthy addition to the single high school in Old Town is the expanded shop class, which enables practical learning and CTE opportunities for students. The focus of the curriculum is engaging students with real-world learning and job preparation as they enter high school. On the day of RSC's visit, a small cohort of students were working diligently on a business model for 3D printing products, calculating cost of material, time, sale price, and more.
Just outside the shop, a narrow trail led to a large outdoor classroom shrouded amongst firs and pines, and just outside the woods a school garden flourished. With a host of opportunities available to them, Old Town high school students are never far away from the environment and communities which also foster their growth.
Old Town's commitment to school gardens, echoing Katahdin's efforts, has created spaces where the public can access fresh produce. A farm stand in front of the school is available to all, and offers both an important supplemental free food source for the community and gives students a greater stake in the well-being of their town. Outside of Old Town Elementary, one of three Elementary schools in the district, raised beds adjoin nature-inspired outdoor play areas. Additionally, students engage in maple syruping, a dynamic learning process that also further strengthens bonds between students and where they live. In communities that can struggle to retain students into adulthood, forming bonds between people and place is an essential ingredient of education.
Aspirations for a Better Future
With Cat Biddle's introduction, the RSC team was also able to learn about the work of Korah Soll and her team at Rural Aspirations, a partner of the University of Maine. In both the coastal islands and western interior of the state, Rural Aspirations has helped transform curriculum to be infused with student identity, sense of place, and real-world connections. This includes the Eastern Maine Skippers Program and Maine Forest Collaborative, two programs which directly engage high school students with industry professionals to gain information and skills fundamental for working in local fishing or forestry industries.
Next Steps for the Regional Hub
It is essential to highlight, capitalize, and bold our excitement after witnessing the impactful work of Cat Biddle and the University of Maine's hub team in supporting teachers and students, and our hope is the Catalyst planning grant will only further these efforts. These visits showcased the hard work and innovative thinking of teachers, principals, and superintendents across the state. While this new imagination of a New England Regional Hub is still in the early days, Allen Pratt at the NREA was able to offer several cross-regional rural efforts that could support the multi-state and interdisciplinary future of this hub.
Maine, with its unique blend of rural charm, is a testament to the spirit of community leaders leveraging the beauty of their natural and cultural environments to shape the future of their learners and citizens. To the educators and leaders in Maine, thank you for opening your doors and sharing your vital stories with those of us from 'away.' Your commitment to rural education is a beacon of hope, illuminating the path to a brighter future for all.

Special thanks to Dr. Cat Biddle and Dr. Penny Bishop for supporting our visit, and to Dr. Allen Pratt for joining the visit (and, for originally introducing Rural Schools Collaborative and University of Maine!). Learn more about RSC's Regional Hub Network.