Seana Mackeldey: Outstanding Student in Individual and Family Studies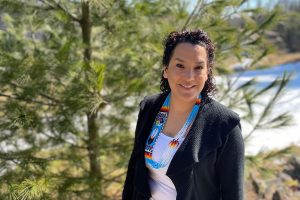 Seana Mackeldey of Dennysville, Maine is the 2023 Outstanding Student in Child Development and Family Relations, Individual and Family Studies concentration. Seana is a Passamaquoddy Language and Culture Teacher at Sipayik Elementary School. She is also the RREV (Rethinking Responsive Education Venture) coordinator and helps with the after school program, teaching a cooking class and working with the running club.
Special thanks: Thank you to my husband for his support during my educational journey and for always being there to help me through the tough times.
Favorite UMaine memory: The first time I went into the library. I had never been in a library so big!