Luke Harper: Outstanding Student in Secondary Education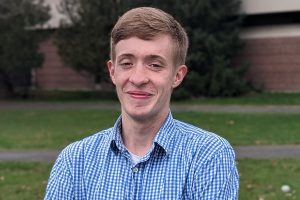 Luke Harper of Madison, Maine is the 2023 recipient of the Outstanding Student in Secondary Education Award from the University of Maine College of Education and Human Development. Luke is graduating with a concentration in social studies and a minor in history. During his time at UMaine he worked as a resident assistant for three years and served as treasurer and vice president of CRU UMaine.
Hometown: Madison, ME
High School: Homeschooled
Parents: Lee and Kim Harper
Special thanks: I would like to first thank my Lord, Jesus Christ, for His work in my life. I know that during all of the late nights and early mornings, He has been behind the scenes making sure I have what it takes to finish my university work. Without him, none of this would have been possible. One of his greatest gifts he has given me are all the important people in my life. Among them are my parents, Lee and Kim Harper. From a young age, they have instilled in me a strong work ethic that has been the backbone of my success throughout college. With my three younger siblings, Josiah, Ethan and Leah, I have always had a place to come home to. I would also like to thank my two best friends, Matthew Nichols and George Grindle, my two older brothers, Samuel and Caleb Harper, and my girlfriend, Vaishnavi Ladd. These five people have always had my back, from late night conversations about life to car rides to the mechanic, I am proud to have these people in my life.
Favorite UMaine memory: My favorite memories of these four years usually surround spontaneous adventures with friends. Whether trying to bike through a marsh at night, or Denny's at 2 a.m., I will always remember the people that made these experiences possible.