Morgan Johnson: Outstanding Student in Secondary Education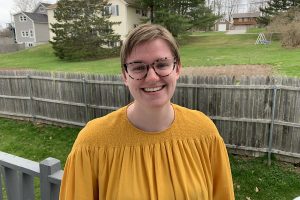 Morgan Johnson of Bowdoinham, Maine is the 2021-2022 outstanding student in secondary education. A double major in secondary education and mathematics, Morgan has been a member of the Screamin' Black Bears Pep Band during her time at the University of Maine.
Hometown: Bowdoinham, ME
High School: Mt. Ararat High School
Parents: Lori and Walter Johnson
Special thanks: I'd like to thank my friends and family for supporting me through college. My parents have been absolute rock stars in their encouragement and advice, and I would not be where I am without their love and support. My best friends Katie and Connor have given me countless memories, spent hours listening to me talk about teaching, and have had my back every step of the way. My boyfriend Ian spent my entire college career reminding me that I am going to do amazing things, and showering me with the reassurance and support I needed. I could not have made it this far without him. I'd also like to thank the wonderful professors in the College of Education and Human Development, for believing in me and giving me all of the tools for success. A very big thanks goes to Faith and Dominic in the Advising Center, for being a wonderful source of support.
Favorite UMaine memory: Playing in the pep band for hockey and basketball games, especially against UNH!