Miranda Snyder: Outstanding Student in Secondary Education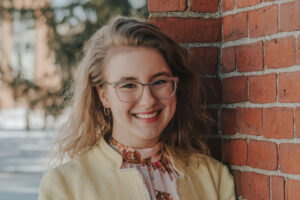 Miranda Snyder of Brimfield, Massachusetts is the 2021 outstanding student in secondary education. Miranda, who graduates with a concentration in English, is also the Outstanding Graduating Student for the College of Education and Human Development this year. During her undergraduate career, Miranda was president of All Maine Women, co-chair of Feminist Collective, an undergraduate researcher with Dr. Rebecca Buchanan, and a member of the Hip Hop Club, Fogler Library student ambassadors, Kappa Delta Pi, Student MEA and Black Bear Mentors.
Hometown: Brimfield, Massachusetts
High School: Tantasqua Regional High School
Parents: Lynne Snyder and Jeff Snyder
Special thanks: Thank you to all my family (biological and not) who have supported my various interests, efforts, and engagements at the University of Maine and beyond during the past four years.
Favorite UMaine memory: Maine Day! No matter the year, weather or setting, I adore the campus-and-community-wide undertaking of service and spirit that abounds during this single day in May.