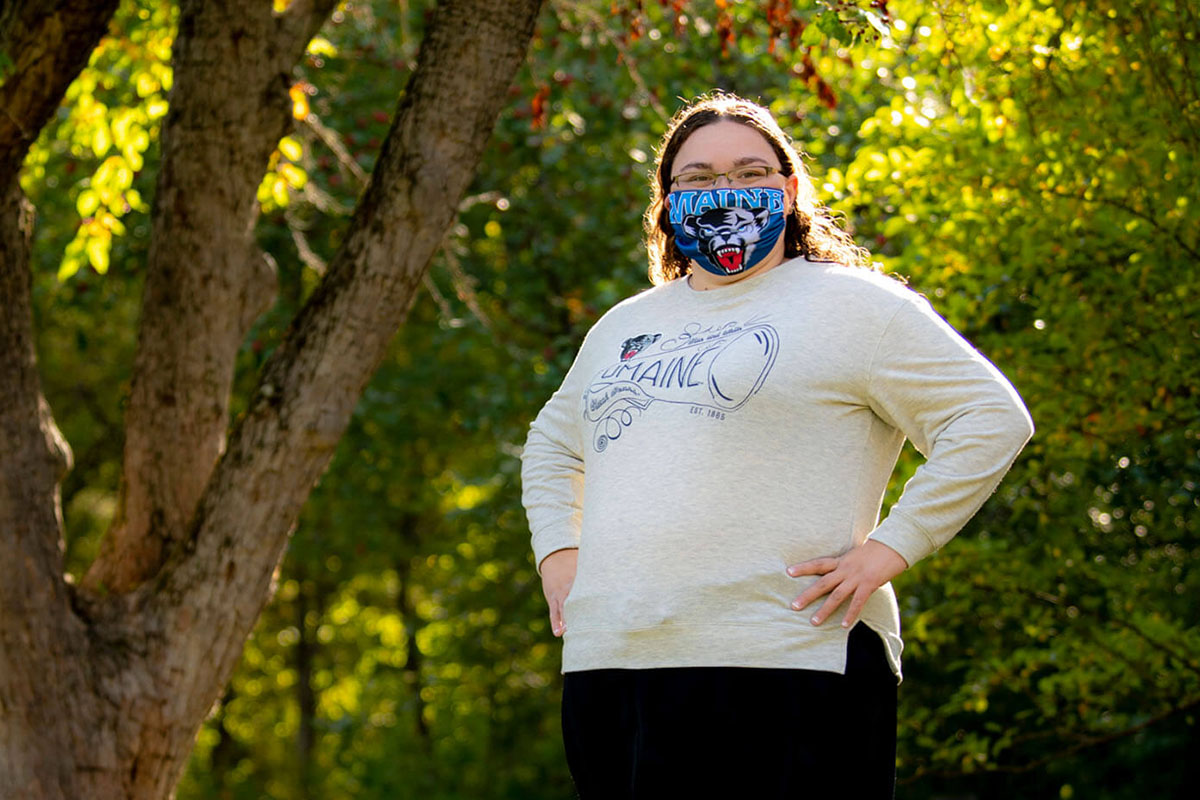 Maylinda Boynton: UMaine is 'home'
University of Maine graduate student and alumna Maylinda Boynton of Belfast, Maine learned a lot about performing arts at UMaine. Before she graduated in 2019 with two degrees — in music education and political science — she performed with four different band groups, sang with University Singers and Mainely Voices, and acted in Maine Masque Theatre productions. She even established a late-night program, Melodies with Maylinda, for student karaokers and open-mic aficionados.
But her undergraduate career was not all about music. Maylinda was inducted into the National Society for Leadership and Success, the Pi Sigma Alpha National Honor Society for Political Science and the Kappa Delta Pi National Honor Society for Education. She was an enthusiastic member of Team Maine for five years, and Boynton was UMaine's Homecoming Queen in 2018. She was clearly an engaged Black Bear.
Now in her second year of a master's program in human development, and year six of her life as a Black Bear, she is engaged in a new way. As a graduate assistant in the Student Wellness Resource Center, Boynton serves as a program coordinator, providing alcohol and drug education to fellow students, and support to those working toward recovery. She recently competed in her first scholarship pageant where she received the spokesmodel award, and was crowned USA National Miss Maine 2021. She will compete for the title of USA National Miss in Orlando, Florida next July.
In spite of her accomplishments, Boynton remains grounded, noting that she entered the Miss Maine pageant to bolster her self esteem. And she is effusive about UMaine, saying that she has known since sixth grade that she was a Black Bear at heart. She felt a deep sense of community even as a middle school student attending summer music camps in Orono.
"I have never felt more part of a community than I do here," said Boynton, noting that nothing has been more life-changing than her time at UMaine.
How would you describe the academic atmosphere and student experience at UMaine?
After graduating from a small high school in coastal Maine coming to the University was quite a culture shock. The student experience here is completely what you make of it, the staff and faculty at UMaine give you every opportunity to expand your horizons way beyond the classroom.
Have you worked closely with a mentor, professor or role model who has made your UMaine experience better, and if so, who and how?
I have worked with some incredible faculty here at the University of Maine, but the person who truly inspired me every day for the two years was Ginger Hwalek, a recently retired piano instructor. No one has pushed me harder, or cared about my well-being and academics more than Ginger. She is one of the most caring individuals I have ever met, and I was lucky enough to have her accompany my junior recital. I couldn't think of anyone I'd rather have by my side during one of the most stressful and exciting experiences of my entire life.
What is the most interesting, engaging or helpful class you've taken at UMaine?
I believe that MUE 320 — Teaching of General Music–Elementary was the most helpful class that I have taken in my time at UMaine because it was my first experience working in person with real students. We were lucky to have a working relationship with the Stillwater Montessori school who would bring their 17 students to the university each week to work with us on music projects and lessons. This was a great experience for their students to have more exposure to different styles of music, but an even greater opportunity for us to get hands-on time with students before stepping foot in the classroom.
Have you gained any hands-on or real-world experience through your coursework? If so, tell us about it:
I was blessed to have the opportunity to student teach in RSU 34, Old Town school district, in spring 2019. This was a truly incredible hands on opportunity to work with K–12 music students at all levels. Through this experience I was able to conduct and teach 4th and 5th grade band and chorus, all the way through high school band and jazz band. This experience helped to prepare me for the classroom, following my graduate work here at UMaine.
What do you hope to do after graduation?
I plan to teach music here in Maine to help give back to the state that has given me so many incredible opportunities in the past 23 years. I want to teach with a trauma informed approach, helping students to use music as an escape from the turmoil they may be facing in their lives.
What difference has UMaine made in your life?
My time at UMaine over the last six years has helped me to grow exponentially. When I came to the university I was an outgoing but unworldly student, and following my experience here I feel completely prepared to go into the world and make a difference. I am eternally grateful for the hundreds of opportunities I have been given in my time here, and the memories I have made.
Describe UMaine in one word.
Home.
Explain:
I have known that I wanted to attend the University of Maine since I was in the sixth grade, although my parents disagreed. After touring schools from Maine to North Carolina and applying to 18 of them, I always knew in my heart that this was where I belonged. And I believe that I could not have made a better choice.
Contact: Joan Perkins, joan.perkins@maine.edu