Maine Schools in Focus: Global literacy and giant maps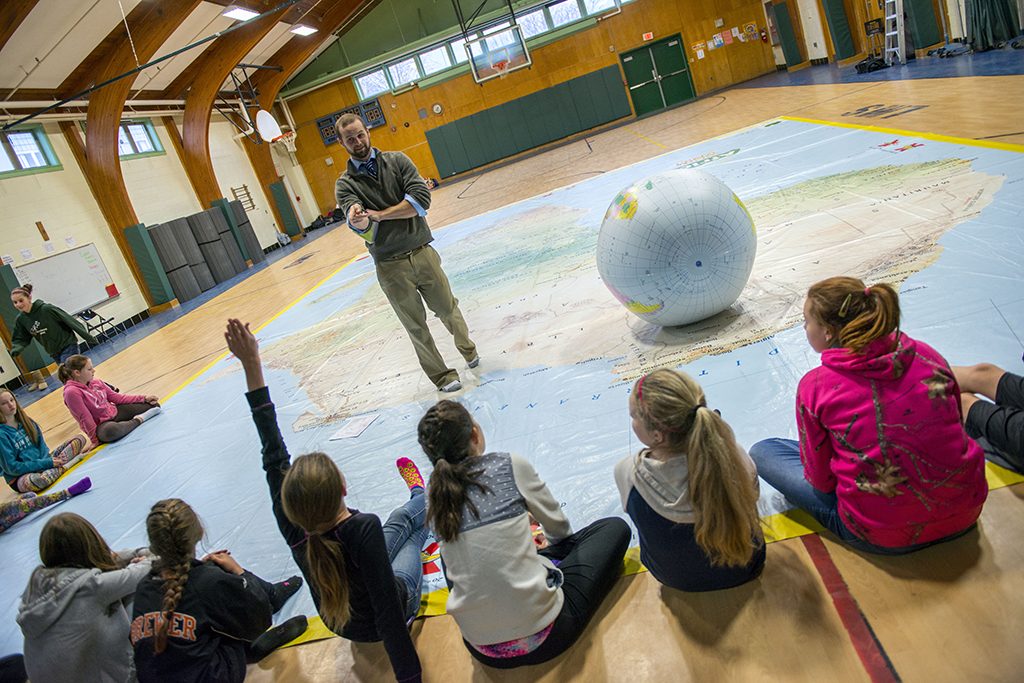 Patrick Womac, Assistant Professor of Curriculum, Assessment and Instruction
---
Adults often comment on the frequent barrage of questions from preschool-aged children. It can be a thing of wonder or simply wear out a tired parent. Research has documented that children ask 10,000 questions per year until around age six, at which point they enter school, and the number steadily declines. For a host of reasons, K-12 students become less inquisitive over time. The public school system is not the sole source of this unfortunate phenomenon, but it is worth our time to consider what might be done to cultivate children's natural state of curiosity about the world. Over the past two years, and continuing this spring, University of Maine faculty, staff, and undergraduate students have worked collectively with local K-8 schools to promote a broad kind of inquiry about the physical and social world around them through geographic awareness and global literacy events.
As the world continues to flatten and un-flatten in complex ways—culturally, economically, and politically (Freidman, 2006; de Blij, 2012)—it becomes increasingly important to prepare students who understand the implications of these phenomena, who are internationally competitive, and who are productive and responsible citizens. Effective geography education can provide students with knowledge, skills, and dispositions that advance this preparation. Students who are geographically literate are more likely to better understand and function in a world with intensifying mass communication, international politics, and a global economy. Unfortunately, American students' poor performance on geographic literacy tests over the past few decades indicates the need for significantly improved geography education. Geography in K-12 education is typically housed only within the social studies curriculum, which has been pushed aside to make room for an increased focus on language arts and mathematics. Former National Geographic Society President Gilbert Grosvener (1987) memorably stated, "To ignore geography is irresponsible" (p. 11). Neglecting geography education can "undermine our judgment on public policy… and our ability to sustain our democracy and contribute to the world community" (Parker, 1989, p. 39).
The unique aspect of geography is that it stands like a series of suspension bridges that span the divide between physical science and social science. Young students naturally engage in geographic inquiry as they encounter the complex world around them.
Each year more than 100,000 Americans actively participate in Geography Awareness Week in late November. For the past few years, through collaboration between UMaine and RSU 34, students at Old Town Elementary and Leonard Middle School have participated in a series of geography-based learning opportunities during this week. A center-piece of this unit is a Giant Travelling Map which covers the gymnasium floor. Each map is of a different continent, and the geography, history, culture, and contemporary issues of that continent become the theme for the week leading up to Thanksgiving break.
Although the maps are a bit of a novelty, there really is something different in the way students interact with geography when they can stand on the surface. Also, the week preceding Thanksgiving Break is often a week where teachers struggle to maintain student engagement, and a Global Literacy unit with atypical learning activities can be an effective way to resolve that challenge. Throughout the week, physical and human geography are woven in across all academic content areas. Every teacher of every subject tailors their curriculum to connect with the global literacy theme. Math teachers use the map to compare land areas and explore geometry and immigration at the same time. Language arts and social studies and science teachers work together to design interdisciplinary learning activities.
Scale is an area of substantial confusion with K-12 students. Particularly distance, population size, land area, and time. Using an oversized map or a large globe helps students conceptualize big populations, emigration, federal land, ancient civilization, and many other important concepts of which there tend to be misconceptions among students. In modern society, our decisions have become increasingly far-reaching in their impact on global economics, the environment, politics, and general health. This immersive global literacy unit is designed to help students consider and address these challenging concepts.
Many of the learning activities are designed and implemented by undergraduate preservice teachers working towards teacher certification through UMaine's School of Learning and Teaching. Undergraduate students get experience working with practicing teachers, both in lesson design and implementation. Authentic experiences in schools have significant influence on the development of undergraduate education students, and the School of Teaching and Learning is committed to maintaining strong relationships with local schools.
National Geographic has produced two or three giant travelling maps of each continent. In 2015, we rented the map of Africa. Throughout the unit, working with the UMaine Office of Multicultural Student Life, we bring guest speakers who have lived in various countries within each year's chosen region of focus.
The project culminates each year with an all-day culture fair. In 2016, a dance team from Brewer performed traditional dances from a variety of European nations, and a bagpipe performance wrapped up the day as the students headed home for Thanksgiving Break.
National Geographic recently produced two giant maps of the state of Maine, so that will be our region of focus this year. We hope that many of our guest speakers this year will be relatives of students, with a concerted effort to connect with family members of Wabanaki students and faculty from UMaine's Native American Programs. We also plan to use a 10 foot diameter inflatable globe to confront mathematical and geographical misconceptions of scale.
These kinds of projects open up an important area of inquiry that deserves our attention and intellectual effort.
Why has American performance on tests of geographic literacy declined over the past 25 years?
Beyond changes to curriculum, instruction, and teacher education, are there broader cultural explanations?
To what extent does it matter than Americans have less geographic literacy than citizens of most of the developed and even developing world?
Are there political, socio-cultural, or economic consequences to poor geographic knowledge?
This area of inquiry needs more empirical research, and it would be healthy for educators to reflect on and engage with the research we have.
Sources:
De Blij, H. J. (2012). Why geography matters: More than ever (2nd ed.). New York: Oxford University Press.
Friedman, T. L. (2005). The world is flat: A brief history of the twenty-first century. Waterville, Me: Thorndike Press.
Grosvenor, G.M. (1987). Geographic education: An investment in your students' future. Paper presented at the Annual Meeting of the American Association of School Administrators, New Orleans, LA.
Parker, W. (1989). How to help students learn history and geography. Educational Leadership, 47(3), 39-43.
Any opinions, conclusions, or recommendations expressed in the Maine Schools in Focus briefs are those of the authors and do not necessarily reflect institutional positions or views of the College of Education and Human Development or the University of Maine.