UMaine, Bonny Eagle Middle School collaboration helps students connect to outdoors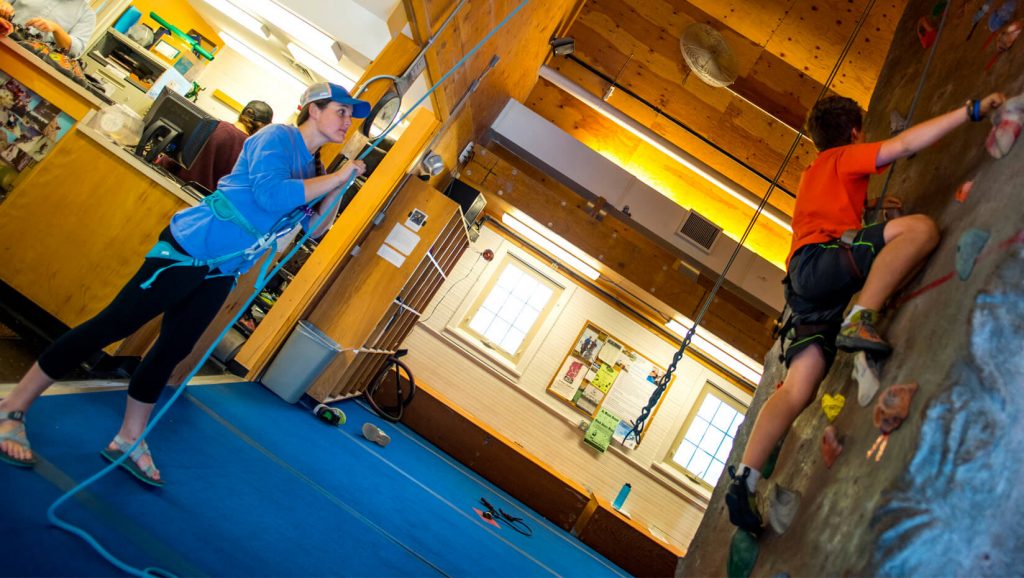 The scene might be intimidating to some people: A group of middle school boys literally climbing the walls where you work.
Not for Colleen Hoffman at the Maine Bound Adventure Center on the University of Maine campus. Hoffman, who has worked at Maine Bound for two years, typically helps other college students or university faculty and staff with outdoor equipment rentals — everything from skis and snowshoes to stand-up paddleboard and canoe gear. But on this day she's belaying for nine 7th and 8th grade boys ranging in age from 12 to 14 as they use the center's climbing wall.
Hoffman, a junior at UMaine, dreams of one day doing physical therapy with young people in wilderness settings.
"The goal is physical therapy combined with outdoor education," she says. "Skiing, rock climbing, working with adaptive technology. Just trying to get people outdoors as much as possible."
Hoffman says her courses at UMaine have prepared her for this kind of work. She has taken the Introduction to Physical Education and Maine Wilderness Guides classes as part of her major in kinesiology and exercise science with an outdoor education focus. She also has her Wilderness First Aid certification and is working toward certification as a Wilderness First Responder.
"Outdoor activity is so important for good physical and mental health," she says, "And it's very important to start at a young age."
The middle school boys Hoffman is working with on this day are part of Pathfinders, an after-school outdoor program at Bonny Eagle Middle School in Buxton, Maine. They visited UMaine as part of a weeklong trip that included camping and fishing at the Maine Youth Fish and Game facility in Milford and a day at Acadia National Park.
Jesse Kaye-Schiess, a lecturer in kinesiology and physical education with the College of Education and Human Development, is a former Pathfinders volunteer. Through his association with the program, Pathfinders students first visited UMaine two years ago. During this visit, Kaye-Schiess had about 10 kinesiology and physical education majors, like Hoffman, work with the kids.
"They were able to come out to Maine Youth Fish and Game and work with these students doing canoeing, kayaking, fishing and firearms safety," he says.
The hours the UMaine students spent working with Pathfinders will count toward their practicum, hours they are required to spend in a hands-on instructional setting in order to earn their teaching degree.
"This is just one way that our students are able to get field experience," says Kaye-Schiess, who has hired other outdoor education students to work at the Maine Youth Fish and Game summer camp, where he is a coordinator.
"We teach them to challenge kids mentally and physically, and get them out of their comfort zones," he says.
The Pathfinders program — now in its 31st  year — primarily offers shorter, after-school activities and daytrips for Bonny Eagle students. The weeklong trips are split into boys, girls and coed groups, with each group doing one extended trip per trimester, says trip leader and 7th grade language arts teacher Justin Pease.
"It's one of the things that really makes Bonny Eagle unique as a middle school," says Pease.
The students are required to keep up their grades and make up any coursework they miss when they're on the trips, Pease says. In today's world of video games and handheld electronic devices, he says outdoor education is more important than ever.
"Some of these kids need to get away from their screen time," he says. "For others it's kind of a carrot: If you do well in school, you get to go on this fun camping trip."
Beyond that, Pease says the collaboration between Pathfinders and UMaine provides the middle school students with opportunities to learn and grow in ways that will have a lasting impact.
"For a lot of these kids, this is their first time on a college campus," he says. "It's so important for them to get that experience, and see what a great community this is."
Contact: Casey Kelly, 207.581.3751