Julia Vicaire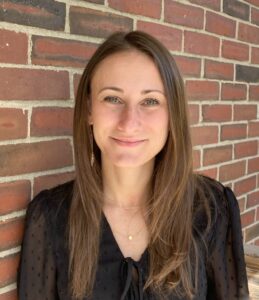 About Me
Hello! I'm Julia. I have my Master's degree in social work and am now a Licensed Clinical Social Worker. I'm a New Jersey native but I've been in Maine for 3 years and am really enjoying a slower pace of life. I've been in the Bangor area since making the permanent move to up north and really enjoy being within 10 minutes of downtown Bangor and 10 minutes of hiking trails. In my free time, I enjoy shopping, hiking, spending time with my family, friends, and of course my dog. I value empathy, self-empowerment, integrity, and equality.
What has been your most embarrassing moment?
I was a camp counselor in high school for a local YMCA back in NJ and before camp started, the YMCA hosted a huge camp counselor team building experience. I am very aware of how unathletic I am, but trying to be a good sport, I still played. We had to pass a soccer ball on some very wet grass in a big group of people and it was my turn; I ran up to kick it and slipped before even making contact with the ball and fell flat on my butt. I had to laugh it off, but I was a bit annoyed and embarrassed that my pants were wet the rest of the day!
What is your favorite food?
It would have to be a tie between chocolate, sushi, and pizza. I can't go a day without something sweet.
If you could take a trip anywhere in the world, were would you go?
Iceland would be pretty amazing to see.
Professional Credentials and Interests
As I mentioned, I am an LCSW. I believe we meet people where they are at and recognize the strengths that we all bring to the table. I acknowledge the importance of trust building, developmental stages, and mindfulness. I base my practice around the theoretical framework of cognitive behavioral therapy as well as mindfulness, relational therapy, and trauma informed modalities. That being said, I am interested in continuing education and improving as a professional. My interest in Outreach is growing and look forward to the new experiences I will have as a member of the Counseling Center.