Cohen Institute High School Leadership Program
The Cohen Institute High School Leadership Program, launched in 2019, is typically held each summer in the month of July. The program immerses rising high school seniors from around Maine in both the theory and practice of leadership.
Through a variety of co-curricular and outdoor leadership programs, students learn the fundamentals of team-building, collaboration, and overcoming adversity. Students earn early college credit by completing a rigorous college-level course that introduces them to the core foundations of the academic field of leadership studies. To supplement the academic component of the program, the Cohen Institute welcomes numerous high-profile leaders from a wide range of fields to share their practical insights on leadership and public service.
Past speakers have included U.S. Senator Susan Collins; UMaine President Dr. Joan Ferrini-Mundy; author and speechwriter Mark Salter; coaches and staff from UMaine's basketball, football, and hockey teams; Secretary William S. Cohen; and others.
Students also gain insights about how UMaine is preparing students to tackle real-world problems through ongoing initiatives and projects at centers and institutes on campus such as the Advanced Composites and Manufacturing Center and the Climate Change Institute.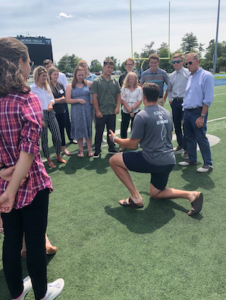 What are our alumni saying about the Cohen Institute High School Leadership Program?
"I loved every minute of the week we were there. The great support system through the mentors and professors were eye-opening, the wide range in activities was what made the experience so perfect, and the guest speakers were picked with such care that you could tell with each one that they believed in what they were saying. 
The connection that I made with the other students who attended is something that most kids my age do not have with kids from other schools. You gave us this once in a lifetime opportunity to connect with each other. Once a week we all check in through a group chat to see how everyone is doing and to keep each other updated on college and life decisions.
Ultimately, this program was what helped me decide what I wanted to do and the reason that I chose to go to UMaine next year. I will be majoring in Child Development and Family Relations in the fall, on track to get my masters in Guidance.
-Olivia ("Liv") Schanck, UMaine Class of 2024 & 2019 Summer Program Participant
Q&A
How much does it cost to participate?
All students are nominated by their high cchool and are fully funded by the Cohen Institute–including tuition, room, and board–through the generosity of our donors. Families are responsible for travel to and from UMaine, and any costs associated with the academic course (e.g. books).
When is the 2021 Summer Leadership Program?
July 18-24