How To Develop Your Elevator Pitch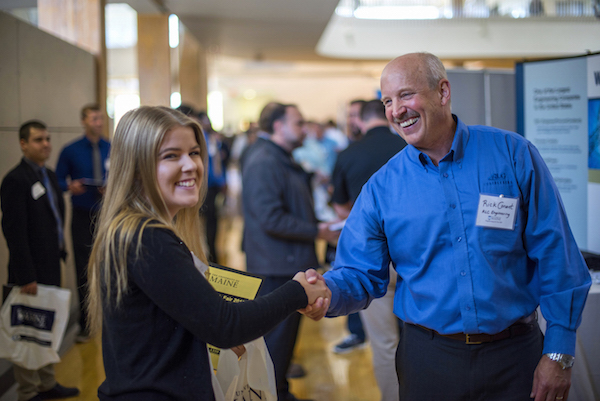 So the Career Fair is next week. You have made time in your day to attend, bought that professional outfit, and fine tuned your resume. What's next? Well perhaps the most nerve wracking part is next, talking with employers. Do not get too nervous though, you're here reading this blog post which is a great first step! This post hopefully will help to take all of the fear out of meeting with employers. The key to effectively approaching prospective employers at the Career Fair is to know how to sell yourself. The best way to do this is to have an elevator pitch ready. Think of an elevator pitch as your opportunity to strategically sell yourself to the employer! You might be asking yourself, how do I make an elevator pitch? Well it's actually quite easy and can be done in three step! First, you need to do some research about the company. What are this companies values? What is their mission and vision? What department am I interested in working in? Find all the relevant information you can to ensure your pitch is informed. Second, you will need to research yourself. What is all the relevant information I should tell the employer about myself? What's my degree? What is my job history? What certifications do I posses? Finally, you should research the fit. To do this, ask yourself, does this company or position match my needs and expectations of the workplace? Once you have an answer to this you have done all of your research! Now that you have all of the information you need, it is time to craft you elevator pitch! Remember, elevator pitches should be about thirty seconds to one minute.
The Career Fair is February 6, 2019 from 10AM-3PM in the New Balance Student Recreation Center on the University of Maine Campus.