Engineering Job Fair Recap
We hope that you are recovering from the whirlwind of information and networking you received and engaged in at the Engineering Job Fair. We are estimating that there were just under 1200 students who visited the Engineering Job Fair in hopes of finding a job, an internship, networking, or just gathering information. In addition, we had 160 employers who were in attendance and we could not be more grateful for the service and information they provided to our students.
NOW WHAT?
Whether you went to the Engineering Job Fair and made some connections with employers or whether you are just interested in on-campus recruiting and how it works make sure to read on!
Throughout the year and especially after the Engineering Job Fair, we host employers who are interested in recruiting UMaine students on campus. We invite them to use our office space to conduct on-campus interviews with students for internships or full-time jobs after graduation.
CareerLink
We are always trying to emphasize how important it is to continue to check CareerLink for any new information regarding jobs/internships or on-campus interviewing sessions. We get phone calls and e-mails on a daily basis asking to upload a new position or a new event to attract UMaine students. All you have to do is log into CareerLink (if you have forgotten your password just select the forgot password link). You can then roam the site and look at any jobs of interest to you. Make sure to definitely check out the events section in CareerLink to see who will be coming on campus to do interviews!
Interviewing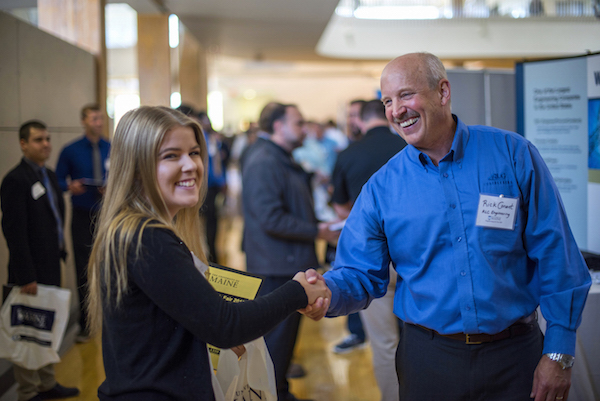 Does the thought of interviewing make you cringe? Do you feel like you are not fully prepared to take on an interview? Come on in to the Career Center and we can help you! Not only do we have knowledge and resources on how you can present yourself successfully, but we also have a wonderful service called, "Mock Interviewing," where we conduct a trial interview for our students. These interviews are videotaped (unless specified otherwise by students) and critiqued by career counselors to help you do your best for when the real interview rolls around.
Come on up to the Career Center and check it out ahead of time if you are still unsure or call to make an appointment, but definitely make sure not to forget about checking CareerLink often for opportunities that are just a click away!
Walk-in hours
Stop by the Career Center for a resume review, cover letter critique, or other career related advice during our designated walk-in hours.  NO APPOINTMENT NECESSARY.  The Career Center's walk-in hours are as follows:
Monday – 9am-12pm
Tuesday – 1pm-4pm
Wednesday – 1pm-4pm
Thursday – 9am-12pm
Friday – 9am-12pm