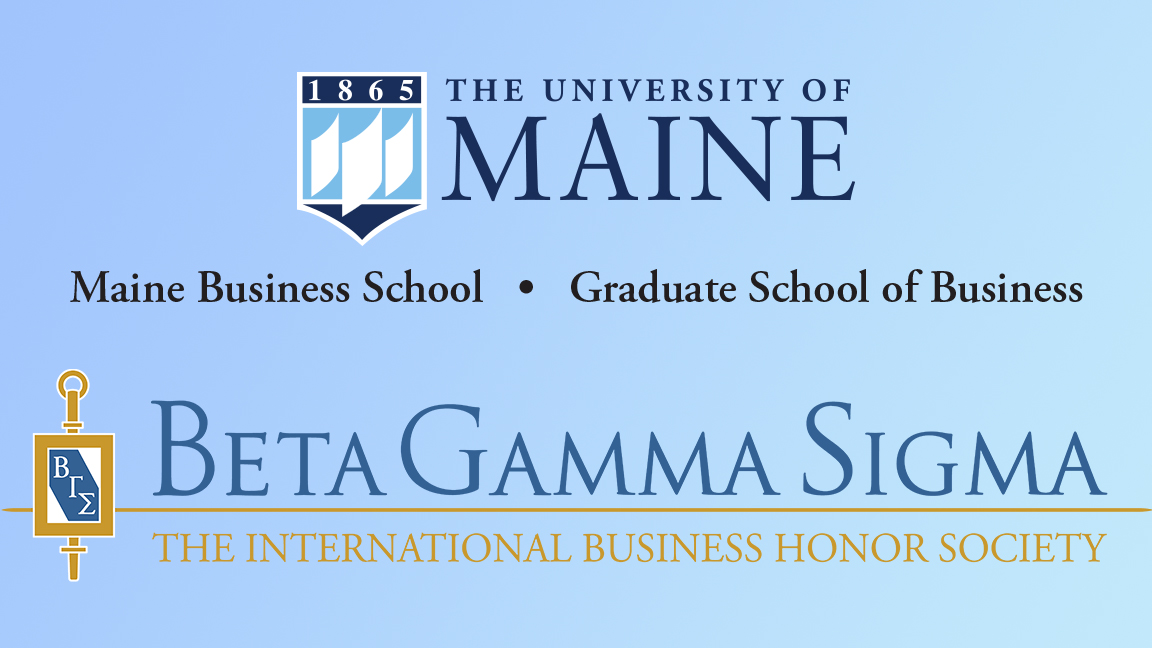 Announcing the 2021 Beta Gamma Sigma Inductees
The Maine Business School and Graduate School of Business are pleased to announce that 79 students have been invited to join the Beta Gamma Sigma International Business Honor Society this year.
Founded in 1913, Beta Gamma Sigma is the business honor society for AACSB-accredited schools. These are the top 5% of business school programs around the world. This is a prestigious honor, and to help our students join, the Maine Business School covers the induction fee for each student.
"Beta Gamma Sigma is the highest academic honor that an AACSB-accredited business program can bestow upon students," says Faye Gilbert, Ph.D., Executive Dean of the Maine Business School. "When you meet a member of BGS, you are interacting with one of the top business minds in the world."
Each Spring, the Maine Business School inducts the top 20% of MaineMBA students and the top 10% of undergraduate Juniors and Seniors into our local chapter of Beta Gamma Sigma. This year's virtual induction ceremony will be held at 2 pm on April 23rd.
The ceremony will be presided over by the current BGS officers: Angelina Buzzelli, MBA president; Nicole Pelletier, undergraduate president; Katelynn McFadden, vice president; and Jeremiah Richardson, scribe. BGS academic advisor Grant Miles, Ph.D., Executive Dean Faye Gilbert, Ph.D., and Associate Dean Jason Harkins, Ph.D. will also help induct the next class of students.
The current BGS Officers have also voted to include Erin Percival Carter, Ph.D., as a faculty inductee this year.
Congratulations to Dr. Carter and the following students:
Juniors
Connor Dominick Bell
Gabrielle Elizabeth Benson
Hope Bifulco
Devon Mycah Carrier
Joy Taylor Cartwright
Emily Kelly Chapin
Nicholas James Czuchra
Jennifer Marie Dean
Alexander Joseph Drobot
Ashton Hailey Dunbar
Alexis Ree Everett
Austin Scott Findlen
Eliza Foye
Chase Andrew Holt
Christopher Arnold Johanson
Kathryn E Kane
Kira Kutzinski
Erin Amy MacAskill
Jonathan William Maidman
Aidan Kent Michaud
Heather Emily Munroe
Kian Michael Murray
Nicholas I Poulin
Mikayla Marie Reynolds
Victoria Sophia Roman
Jakub Sirota
Kendall Rose Szumilas
Allison Elizabeth Treat
Samuel Walker
Seniors
Jacob Beauchesne
Grace Graham
Daniel James Guidi
Michael Alexander Labun Jr
Jonathan Matthew Yang Libby
Kassidy Shannon Mathers
Hannah Nugent
Chandler Crosby Perkins
MBA
Labeed Al Hanfy
Nargiz Ali Zada
Ross Baldree
Colby Bracy
James Brissenden
Joe Carroll
Sophie Cohen
Adam Comolli
Frank Cruz
Sina Dadfar
Michael Davis
Nate Faessler
Michael Galanek
Kevin Gallant
William Grover
Jill Harper
Robert Harvey
Darius Haskell
Connor King
Mike Kirby
Hrachya Kocharyan
Joseph Light
Cory Merrill
Kimberly Montero
James Nelson
Catherine Odede
Sarah Paine
Karissa Panzino
Matthew Penney
Derek Prox
Daniel Quinn
Tara Richards
Josh Rosen
Mikayla Roy
Keith Sample
Bennett Shaw
Kara Sleeper
Mimi Sokolowski
Samantha Sparda
Daniel Thomas
Jacob Watson
Allison Willard
To see the inductees from past years, please visit our website.