Beta Gamma Sigma
---
Founded in 1913, Beta Gamma Sigma is the international business honor society for AACSB-accredited schools, which are the top 5% of business school programs around the world. Inducted as students, BGS members go on to serve in critical leadership roles in corporate, entrepreneurial, government, non-profit, and academic sectors.
Each year, the Maine Business School inducts the top 20% of Graduate Students and the top 10% of Undergraduate Juniors and Seniors into our local chapter of Beta Gamma Sigma. This is performed at the Induction Ceremony each year. For more information about Beta Gamma Sigma, please visit their website.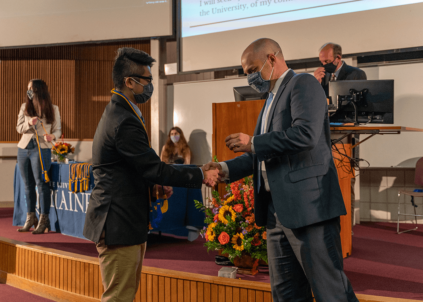 ---
Sophomores
Lynden Breen
Sara Kunesh
Hoang Le
Spencer Matteo
Victor Ostman
Tristan Poissant
Kyla Taylor
Noah Testerman
Jack Tracy
Donavan Villeneuve
Caroline Glystorff
Spring 2022
Juniors
Quinn Bartlett
Zachary Beaton
Leila Davids
Phelan Doyle
Joseph Luong, Jr.
Riley Rheault
Justin Strout
Reilly Tucker
Seniors
Collette Filer
Alexandra Lessard
Luke Monteiro
Spring 2022
MBA
Brian Blethen
Elizabeth Carlson
Katie Day
Bradley Dobin
Rachel Harbottle
Evan Libby
Corey Lison
Ryan Nadeau
Benjamin Pratt
Spring 2022
Sophomores
Jay Austin II
Kylie Fong
Annika Gil
Kyle Lee
Emily Lupien
Michael Marro
Kaden Nevells
Allison Robbins
Kathryn White
Juniors
Adefolarin Adetogun
Morgan Bui
Timothy Cookson
Connor Goodman
Katelyn Grant
Storm Jipson
Sydney Kachmar
Anna Kahelin
John Lalime
Anthony Maguire
Ashlee McIntosh
Armand O'Keefe
Trevor Pearson
Olivia Sciarappa
Nico Soucy
Ma'ayan Weiss
2021 – Winter
Seniors
Grace Bennett
Brandon Burris
Troy Pender
Robert Roof
Katharina Stovall
Elaine Thomas
Faculty
Stefano Tijerina, Ph.D.
2021- Winter
MBA 
Jacob Albon
Amelia Arnold
Nathan Awrich
Richard Barajas
Jesse Bohannon
Catherine Bourgault
Lauren Brown
Jonnathan Busko
Shaun Campbell
Ryan Cassidy
Yuko Crocker
Shawn Croley
Jonathan Cushing
Whitney DeSena
Kevin Drewrey
Simon Ferland
James Frost
Jonas Gaus
Nick Gredin
Devon Hoyt
Eden Kalyanapu
Kelton Loper
Qilian Luo
Nick McDaniels
Ryan Miller
Thomas Murray
Ryan Nadeau
Jordan Nickerson
David Phelps
Keenan Round
Michael Shacter
Jaime Silverstein
Martha Smiley
Jord Thomas
Eva Thornton
Monica Tschirhart
Anil Vaidya
Cindy Vass
Corey Watson
David West
Greg Wright
Jija Young
2021- Winter
Juniors
Connor Dominick Bell
Gabrielle Elizabeth Benson
Hope Bifulco
Devon Mycah Carrier
Joy Taylor Cartwright
Emily Kelly Chapin
Nicholas James Czuchra
Jennifer Marie Dean
Alexander Joseph Drobot
Ashton Hailey Dunbar
Alexis Ree Everett
Austin Scott Findlen
Eliza Foye
Chase Andrew Holt
Christopher Arnold Johanson
Kathryn E Kane
Kira Kutzinski
Erin Amy MacAskill
Jonathan William Maidman
Aidan Kent Michaud
Heather Emily Munroe
Kian Michael Murray
Nicholas I Poulin
Mikayla Marie Reynolds
Victoria Sophia Roman
Jakub Sirota
Kendall Rose Szumilas
Allison Elizabeth Treat
Samuel Walker
2021
Seniors
Jacob Beauchesne
Grace Graham
Daniel James Guidi
Michael Alexander Labun Jr
Jonathan Matthew Yang Libby
Kassidy Shannon Mathers
Hannah Nugent
Chandler Crosby Perkins
Faculty
Erin Percival Carter, Ph.D.
2021
MBA
Labeed Al Hanfy
Nargiz Ali Zada
Ross Baldree
Colby Bracy
James Brissenden
Joe Carroll
Sophie Cohen
Adam Comolli
Frank Cruz
Sina Dadfar
Michael Davis
Nate Faessler
Michael Galanek
Kevin Gallant
William Grover
Jill Harper
Robert Harvey
Darius Haskell
Connor King
Mike Kirby
Hrachya Kocharyan
Joseph Light
Cory Merrill
Kimberly Montero
James Nelson
Catherine Odede
Sarah Paine
Karissa Panzino
Matthew Penney
Derek Prox
Daniel Quinn
Tara Richards
Josh Rosen
Mikayla Roy
Keith Sample
Bennett Shaw
Kara Sleeper
Mimi Sokolowski
Samantha Sparda
Daniel Thomas
Jacob Watson
Allison Willard
2021
Juniors
Nicole Ashe
Cedar Bagley
Connor Baldwin
Caitlyn Beaulieu
Connor Bennoch
Timothy Bloomer
Emily Colter
Emma Cossette
Aubrey Duplissie
Kelly Fogarty
Andrew Howes
Olivia Johnston
Colette Latendresse
Maria Maxsimic
Katelynn McFadden
Elise McKendry
Elizabeth Moody
Yoav Olsen
Julia Phan
Melissa Reichel
Jeremiah Richardson
Isabella Sernyk
Evan Smith
Cassidy Tibbetts
Veli-Matti Tiuraniemi
Sarah Tymm
Danielle Weaver
John Wolfington
2020
Seniors
Teagan LaPiere
Cassandra Mascarenhas
Carson Neumann
Anna Peterson
Gabrielle Sands
Fanny Wadling
Faculty
David Barrett
Stephanie Welcomer
2020
MBA
Michael Bailey
Jennifer Baroletti
Jennifer Boutin
Christine Brien
Jeanette Brown
Adam Caron
Tristan Degen
Steven Doman
Kevin Dumas
Nicholas Fraunfelter
Sarah Gagne
Jennifer Hannigan
Michelle Hansen
Tyler Jolicoeur
Kristie Libby
Blaine Livingston
Amanda Mancheva
Sara McGrath
Tony Paine
Jonathan Roy
Sierra Santomango
Mary Sedlock
Patrick Whalen
Jacob Wildes
Kim Wilson-Raymond
Emerson Wright
2020
Juniors
Gustav Anderson
Nishchay Arya
Bethany Ashley
Jacob Bradshaw
Alex Britton
Delaney Burns
Haley Cadran
Jarod Dye
Jordan Fournier
Adam Green
Courtney Hyde
Emily Lagerstrom
Beate Naglestad
Emma Olmstead
Nicole Pelletier
Mark Pollard
John Quinlivan
David Roy
Vincent Russo
Cameron Spicer
Samuel Varga
2019
Seniors
Matthew Ahearn
Eduardo Anzurez Uroza
Kayla Bennett
Bingying Dong
Vanessa Dorronsoro
Casco Haley
Tennyson Martin
Jeffrey McNally II
Reid Monk
Rebecca Schuman
Samuel Stark
Evangelos Stasinos
Ilija Stojiljkovic
Kaylin Tam
Alec Taylor
2019
MBA
Shane Albert
Andrew Cox
Jeff Gelinas
Jeffrey Graveson
Davis Jacques
Sara Kallenbach
Sai Katta
Michael Perreault
Ian Perry
Kevin Platukis
Riley Mahan
Tho Ngo
Alexander Schonewolf
Zhen Zhang
2019
Juniors
Angelina Buzzelli
Kelsey Dore
Dominic Guimond
James Huff
Andrew Hutchins
Nathaniel Jordan
Gabriel Karam
John Laperle
Erin Niehoff
Zhecheng Shen
Meredith Stephens
Kaitlyn White
2018
Seniors
Matt Closson
Benjamin DeMello
Marie-France Georges
Marcus Harding
Rebecca Hatt
Victoria Hummel
Emma Huntley
Jordan Kalmus
Nicholas Lunn
Morgan Outing
Gianna Porter
Jessica Ricker
Sebastian Zepeda
2018
MBA
Heather Arsenault
James Clark
Jake Daniele
Philip DuBois
Michael Enos
Matthew Fowler
Nathan Frazier
Nathan Kay
Yan Liu
Aili Robinson
Kaitlyn SeeHusen
Lindsey Smith
Jacob Spinney
2018
Juniors
Andrew Lee
Andrew Bullard
Anne Spezia
Austin Blake
Benjamin McLaughlin
Charles Jones
Forrest Carle
Grant Carrier
Jason Pina
Jillian Amaral
Maggie Maloy
Mark McLaughlin
Matthew Ahearn
Nathan Perry
Ryan Hammontree
Taylor Simpson
Victoria Kingston
2017
Seniors
Auyon Rahman
Everett Coulter
Joseph Leclair
Kelly Wilson
Matthew Klemperer
Matthew Michaud
Megan Ackley
MeiWa Li
Mindy Downing
Olivia Swimm
Steven Vandez
Taylor Tyrrell
Tyson West
2017
MBA
Arthur Tucker
Edmond Morin
Jesse Orach
Jessica Pardoe
Jordan Hall
Kristin Hall
Laura Lommler
Richard Luc
Samuel Albert
2017
Juniors
Brady Davis
Brittany Towle
Cameron McMahon
Cara Doiron
Casey Myhaver
David Bickford-Duane
Devon Foster
Emily Deering
Ethan Roney
John Butler
Joseph Collias
Kayla Greenawalt
Kestrel D'Antilio
Marisa Tandy
Robert Begin
Sydney Veljacic
2016
Seniors
Abigail Hannigan
Amy Cirrinone
Casey Libby
Eric Schurhamer
Joshua Boldebook
Kaitlyn Townsend
Karen Lucky
Rosa Tiemann
Sean Perry
Tyler Morin
Zebediah Letourneau
2016
MBA
Anna Soule-Williams
Brady Jacques
Christine Serbent
Fiona Jensen
Haiyan Qi
Philip Kolmar
Sean Christensen
Tanner Adams
2016
Juniors
Andrew Jewell
Benjamin Smith
Brittany Seekins
Camille Cramer
Chad Denbow
Connor Shaw
Darin Jandreau
Darren Brown
Devin Shore
Felicia Cowger
Hoang Anh Le
Ian Shea
Jamie Rowe
Meaghan Cavanaugh
Michael Duggan
Molly Chapman
Ryan Scott
Samuel Jordan
Steven Swavely
2015
Seniors
Duncan Bowen
Nathan Burns
Nipun Vaidya
Wendy Gibbs
2015
MBA
Adam Mullen
Brian Raymond
Joachim Parent
Melissa Malmstedt
Naveed Ahmady
Patricia Peaslee
Samuel Foster
2015
Juniors
Christopher Jones
Connor Smart
Craig Lizotte
Erica Sedler
Gillian Morrison
Katelynn Ronan
Katherine Bolster
Kyle Morrison
Lucas McDaniels
Marco Hernandez
Nicholas Laverriere
Samantha Wozmak
Sarah Werner
Taylor Dimick
Zachary White
2014
Seniors
Ashley Anastasoff
Brittney Marshall
Eileen McKinney
Elek Pew
Jacob Kane
John Robinson
Justin St. John
Zachary Nichols
2014
MBA
Adam Bates
David Carmack
Heather Omand
Leslie Poake
Malado Ba
Nicholas Shaw
2014
Juniors
Ashley Paradis
Danielle Laverriere
Dilasha Dixit
Janelle Tinker
Johanna Verney
Kate Wypyski
Katie Hathaway
Laura Mills
Michael Vietze
Michael Walker
Michael Neilson
Ryan Herrick
Tyler Stephens
Zachary Porter
2013
Seniors
Elizabeth Madigan
Emily Leen
Kathryn Smith
Keiko Myer
Lisa Daniel
Matthew Deschesne
Raymond Updyke
Ryan Bosse
2013
MBA
Brandon Brown
David Denton
Derek Jones
Jon Johnson
Reid McLaughlin
Sean Hendrix
Timothy Stormann
2013
Juniors
Abby McCloskey
Charles Pye
Daniel Sullivan
Emma Wilson
Jessica Woods
Jonathan Swavely
Justin Kezer
Justin Morren
Robert Brown
Shane O'Brien
Shelbe Lane
2012
Seniors
Alison Keane
Anthony Elkins
Brittany Shardlow
Caroline Freeman
Dipesh Gongal
Matthew Chabe
Meryl McLellan
Patrick Ryan
Spencer Hathaway
2012
MBA
Alexander Foster
Cassie Vaillancourt
Charles McMahan
Victoria Nute
2012
Juniors
Alicia Millett
Alisha Rechholtz
Ashley Ferrucci
Jacob Day
Joellen Chambers
Jordann Hatfield
Kristen Morrison
Matthew North
Rose Cox
Samuel Chaplin
Thomas Robinson
Tierney Minte
2011
Seniors
Alyssa Dean-Littlefield
Andrew Bement
Jennifer Ethier
Joshua Kochis
Rachel Porter
Robert Macleod
Ryan Baker
2011
MBA
Amy Sundberg
Angela Bohovich
Chris Brook
Ian Burns
Jessica McCauley
Joseph Szelesta
Kenneth Loomis
Kim Williams
Mary Simon
Maryam Nazari
Melissa Adle
Michael Chasse
Senthil Socklingam
Seth Swanberg
Shannon Byers
Stephanie Palmer
Tony Llerena
Wendy Haslam
2011
Juniors
Carson Pillar
Chelsea Leeman
Danuse Bement
Emily Antonico
Giang Vo
Jacqueline Ducharme
Justin Laverriere
Katherine Deegan
Kristin Orr
Lauren Duplin
Meghan McCarthy
Michael Rankin
Siqi Geng
Sujata Shakya
Tanner House
2010
Seniors
Amanda Missud
Jeffrey Dimmen
John Baiamonte
Justin Labonte
Patrick Deighan
Rachel Hathaway
Richard Cannon
2010