Programs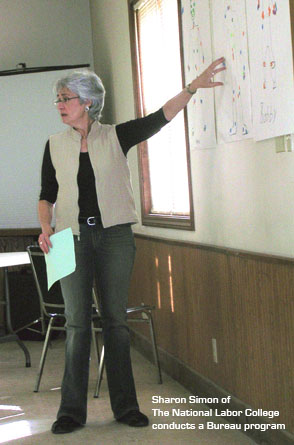 Maine National History Day (NHD) is an annual event for teachers and students in grades 6-12 that promotes critical thinking skills through project-based learning.
The AFL-CIO Summer Institute is 2 days of education & dialogue on issues of importance to working people & the labor movement.  Students & union members welcome. Scholarships are available, contact the Bureau of Labor Education for information.
Labor Education Programs
Programs tailored to organizational needs

Bureau staff can conduct on-site labor education programs and presentations throughout Maine. We offer daytime or evening classes at the convenience of groups served.
Topics covered can include:
Labor History
Occupational Health & Safety
Women & Work
Worker & Union Rights
Stewards Training & Grievance Handling
Participants include:
public and private sectors workers
officers, and staff of labor organizations;
government officials and policy makers;
educators and students;
members of the greater Maine community.
There may be a minimal program fee to cover Bureau expenses. Contact the Bureau by phone at 207.581.4124, or e-mail at labored@maine.edu.
Undergraduate Education in Labor Studies
The Bureau of Labor Education also offers a Minor in Labor Studies and a Labor Studies Track which can be taken as part of the Bachelor of University Studies. More information about the Bachelor of University Studies degree program.  Both of the Labor Studies courses described below are required by the Minor and Track in Labor Studies, however, Labor Studies courses may also be taken by themselves as electives.  Labor Studies classes are structured to be taught on line with a focus on creating dialog with students about the theories, ideologies, and beliefs that support, and are interwoven within the framework of, the labor movement and the practical skills involved in running labor organizations and representing employees. Those interested in taking a Labor Studies course should check with the Bureau regarding when they will be offered and how to register. More information about the Minor in Labor Studies is available in the University of Maine catalog.
LST 101 – Introduction to Labor Studies
Introduction to the field of Labor Studies, which comprises an interdisciplinary area of study encompassing the labor movement and labor organizations; work and the labor market; social class; employment law and relations; labor economics; diversity in work and the labor movement; and the sociology of work.
LST 201 – Work and Labor in a Global Environment
Provides a critical analysis of U.S. labor and the workplace from a labor studies perspective. Topics include: a historical overview of labor, social class and work; the role of conflict, power, and inequality, including gender, race, and class; the evolution of employment law and labor relations; organization and role of unions; workforce diversity and demographics; labor and contemporary issues involving technology, corporations, politics, and the global economy.
For further information about the Bureau of Labor Education's programs, courses, and publications, please contact our office through any of the following:
Phone: 207.581.4124
Fax: 207.581.4122
E-mail: labored@maine.edu
Mailing address:
5713 Chadbourne Hall
University of Maine
Orono, Maine 04469-5713