If you possess the Pride, the Spirit, and the Drive, become a member of the Pride of Maine Black Bear Marching Band. It will be an experience that will stay with you forever.
Click on Band Camp Registration to register for the upcoming season.
2023 Band Camp Schedule
2023 Band camp will run August 19-25. (Details TBA)
Tentative Performance Schedule:
*These dates will be added to*
9/16 – University of Rhode Island
9/23 – Riverfest and MBDA Show
9/30 – Stony Brook University
10/14 – Long Island University
10/28 – University at Albany
11/4 – Hampton University
The University of Maine extends an invitation to you to be part of the pride, spirit and drive that make up the Marching Black Bears. The Pride of Maine Black Bear Marching Band is open to all students on campus that have an interest in participating on an instrument, on the dance team, or with the majorettes. The Pride of Maine Black Bear Marching Band provides pregame and half-time entertainment with pride at home football games as well as plenty of spirit in the stands. In addition to that, there is travel once or twice each season to play for away games as well as exhibit at local band shows. The band also participates in standstill concerts and marches in local parades.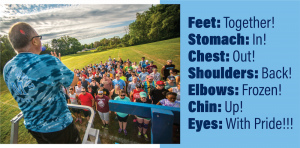 Preparation for this busy schedule starts one week before classes begin in the summer with a band camp. At camp, members work hard at learning new music, new drills, and reviewing the basics of marching. Also on the band camp itinerary are fun social activities that bring old friends together and make new friends that will last a lifetime.
During the fall semester, marching band rehearsals are scheduled so that it will not interfere with prime academic time or any other music groups on campus. Meetings are Tuesday and Thursday from 3:30 p.m. – 4:50 p.m. and Friday from 4:00 p.m. – 5:20 p.m. and game days from 8:00 a.m. until the game is over. Marching band is also a credited course and members may elect to receive one or zero credits per semester. If members elect to do one credit, it will count towards fulfilling certain general education requirements. The course is MUO 111, section 1. For more info about registration, please contact the School of Performing Arts office.