Explore the Pride of Maine Black Bear Marching Band
Welcome to the Pride, Spirit and Drive of the University of Maine Marching Band!
The Marching Band at the University of Maine performs pregame and halftime shows at all home football games, providing spirit and entertainment to UMaine fans. The band also performs at parades and high school exhibition shows (MBDA) during the fall season. There are members from all over the country and from over 58 different majors.
To learn more about the band or to find out how to join, please explore the links below.
Spring 2021 Q&A
Interested in joining the Pride of Maine Black Bears Marching Band? Join us via Zoom for one of our Spring Q&A sessions. Meet the Fall 2021 section leaders and UMaine Marching Band director Chris White. Ask the panel about collegiate marching, performances, and more!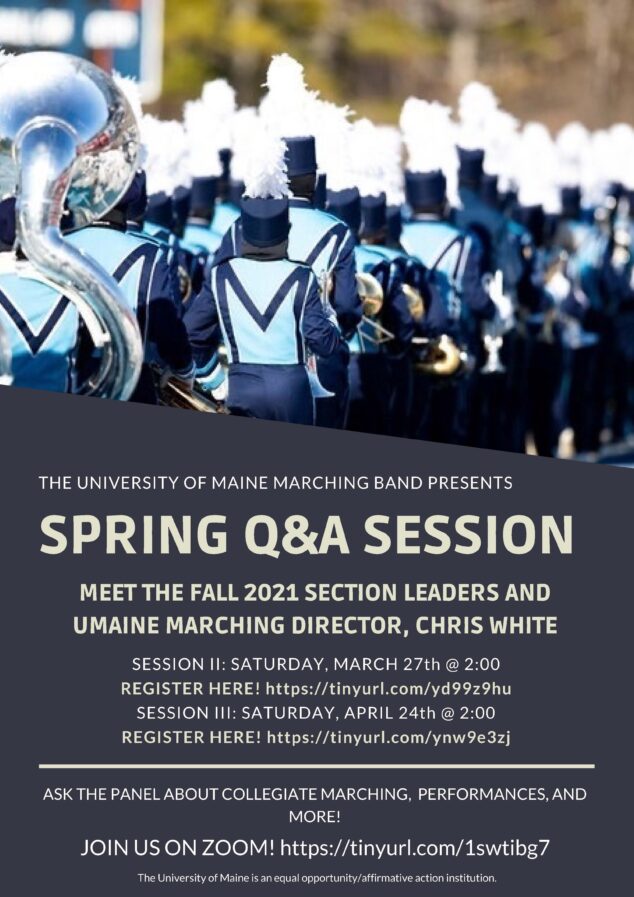 Join the UMaine Marching Band for a Spring Q&A Session.