Student Center
Welcome to our new page just for students! Here you will find things such as student events, department events, classes that may interest you, clubs(round table), and student newsletters.  You will also have the Academic calendar so you can keep up with enrollments, add/drop, and if you need to change/add a major or minor. 
---
UPDATE ON TWO COURSES
Looking to fulfil your creative/artistic expressions Gen Ed? Consider either of these two exciting new courses, both offered in fall 2023!!
WGS 206: Investigating Equity. This course explores the ways in which equitable practices and mindsets result in inclusion, and whether and when inclusivity leads to diversity. After identifying the privileges at work in historical and contemporary contexts, students construct multimodal projects to represent the way/s that their everyday choices might shape their own and other's experience of equity.
Meets Tuesdays/Thursdays from 12:30 to 1:45 pm.
WGS 250: Women and Music
This class explores the achievements and challenges that women have faced throughout the world as composers, performers, conductors, teachers, and patrons. A wide spectrum of musical works by women in a variety of styles will be studied, through recordings, videos and live performances. This class meets the Gen Ed requirements for 'Artistic & Creative Expression' and 'Cultural Diversity & International Perspectives'. It is open to students of all academic disciplines, and fulfills the upper level music history requirement for music performance majors. 
Meets Mondays, 5:30 to 8:20 pm.
---
WGS Student Round Table
More coming on this.  Stay tuned. 
WGS Study Rooms
More coming soon on study rooms.
---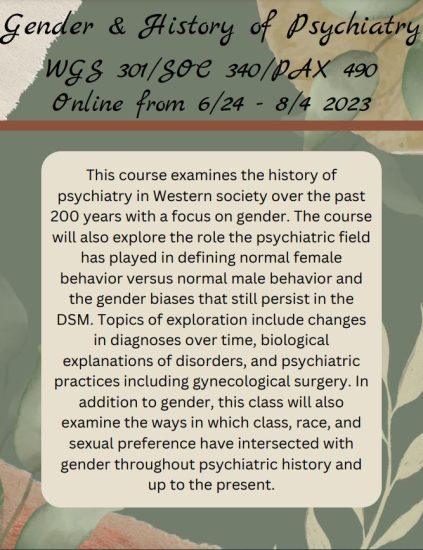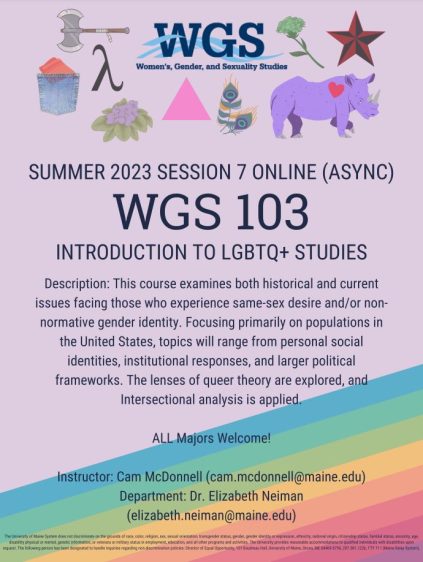 Student Forms & Newsletters