PROGRAM UPDATE: March 2023
This spring, we are thrilled to launch two related curricular developments: our new Department Partnership Initiative and revised requirements for both the Major and Minor! Both bring more flexibility and diversity to our program of study, helping to ease the way for students across the university (and with majors as diverse as Microbiology, Nursing, and History) to more easily pick up a WGS minor or double-major. Keep reading if you want to learn more!
---
Welcome to WGS!
Women's, Gender, and Sexuality Studies is an interdisciplinary program with contributions from faculty across campus and beyond. Our alumni are employed in social service work, health services occupations, business, law, education, and government at all levels.
Women's, Gender, and Sexuality Studies is also an excellent second major or minor for students in a wide variety of disciplines, such as anthropology, biology, mathematics and statistics,  nursing, political science, psychology, political science, sociology, English, social work, and history.
Women's, Gender, and Sexuality Studies students gain a more complete understanding of how the social construction of gender has influenced the roles, contributions, and experiences of both women and men in many different cultures, now and in the past.  Such awareness can help them better understand our contemporary world with its changing roles for all.
Women's, Gender, and Sexuality Studies helps orient students to:
•   better understand our contemporary world with its changing roles for all;
•   appreciate the complexity of how gender interacts with race, social class, sexual orientation, and other forms of diversity;
•   draw connections between Women's, Gender, and Sexuality Studies and other disciplines across the university;
•   appreciate how scholarship in WGS Studies informs activism and social change, historically and in the present;
•   develop the critical intellectual capacity and communication skills to work with, value and improve the lives of others in whatever public or private spheres they choose.
WGS @ Work Series Come see what Women's, Gender, and Sexuality Studies Program has to offer with our "WGS @ Work Series (Click on to get more details)
---
Meet Maine's Law Firm Serving Low-Income Defendants
Tuesday, October 3rd, 2023, in the Bangor Room in Memorial Union from 11-12pm
Join us to learn about Maine Indigent Defense Center with speakers Emily Goulette the DIrector of Policy of Development, and Jenna Zawislak the Staff Attorney at MIDC
MIDC is Maine's only provate law firm practicing soley court-appointed crominal defense cases for indigent defendants.  MIDC staff will be discussing Maines current indigent defense system, the ongoing fight of indigent defense attornys in Maine, and what interested students can do to get involved.
Coffee and cookies will be provided.
---
WGS @ Work Series Past Events/Discussions
WGS and STEM/Disability Studies
March 27th, 2023, Monday, 2-3pm
Bangor Room Memorial Union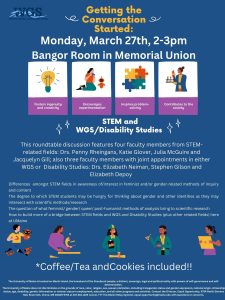 A roundtable discussion features four faculty members from STEM-related fields. The discussion will lead to the differences between the Stem Fields and more. Questions of what feminist/gender/queer methods of analysis bring to scientific research and more. 
GENDER AND HIGHER-ED LEADERSHIP IN BANGOR AND THE SURROUNDING COMMUNITY
Wednesday, February 15th, 1-2pm, Coe Room Memorial Union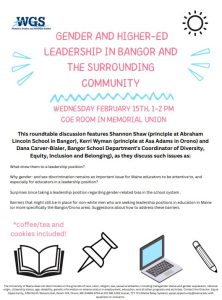 This discussion is with 4 principals from different schools. They discuss what drew them to a leadership position. Why gender and sex discrimination remain an important issue for Maine educators in a leadership position?
"Feminism is for everybody."
–bell hooks