About Winter Session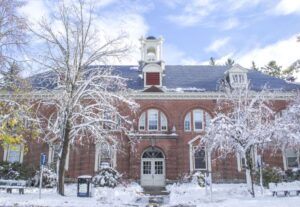 Winter Session is an integral part of the University of Maine, and of the University's new Think 30 program. Winter Session courses can help you earn 30 credits per year and keep you on track to graduate in four years.
Courses are taught by the same faculty who teach during the academic year. Students can take advantage of Winter Session to make up coursework, or to get ahead in their degree. Those not engaged in formal study but who wish to attend for general purposes are also welcome to attend (some courses may have prerequisites). Credits earned in the winter may be counted towards a UMaine degree or towards requirements at other colleges and universities.
All Winter Session courses are offered in a condensed and intensive fully online 3-week format. Students taking a Winter Session course should be prepared to dedicate 30-40 hours per week on their course.
We hope you will join us for Winter Session!
Contact us
122 Chadbourne Hall
The University of Maine
Orono, ME 04469-5713
Phone: 207.581.3143
Email: wintersession@maine.edu