All Winter Session courses are online January 4–22, 2021 (3 weeks)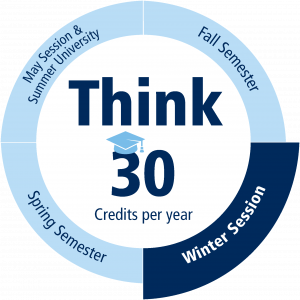 Choose among a variety online courses during UMaine Winter Session. Stay on track with 30 credits per year. Whether you are looking to fit that extra course into your schedule, graduate early, boost your GPA, or simply make the most of your winter break, UMaine Winter Session is an opportunity to further your academic goals in a flexible online environment.
---
Photographs of students not wearing masks were taken prior to the coronavirus pandemic. The University of Maine and University of Maine at Machias follow federal and state Centers for Disease Control and Prevention health and safety guidance, which includes social distancing and use of face coverings for the start of the 2020–21 academic year.
Winter Session, a part of UMaine's Division of Lifelong Learning, stands against racism. Please click here to read a statement addressing this important issue.