Ongoing Programs
There are a lot of weekly programs going on at the Wilson Center! All of our events are open and welcoming to all. 
Check out our new video highlighting all the exciting programs we did during our fall 2021 semester!
Weekly Programs
We have Programs each night Sunday through Thursday. Come join us, all are welcome!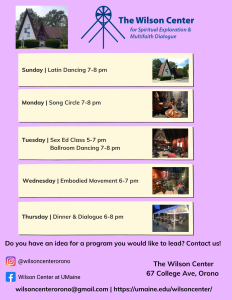 Do you have an idea for an interfaith, multicultural, spiritual, or diversity event?
Reach out to us at wilsoncenterorono@gmail.com!