Voluntober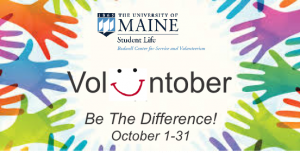 To connect with national Make a Difference Day in October, the Bodwell Center is working with the local community to find service projects throughout the area to be completed by different groups of students.
Projects will be available multiple days a week and hopefully lots of projects every weekend.  Students are encouraged to sign up themselves, to sign up with a group of friends, or even to get a student organization involved.  Projects will be available for many different group sizes so there will be something for everyone.
Do you have an event or project that you would like to get on our list?  Feel free to submit more than one!!
On-Line Registration Form
Download Registration Form (PDF)
Download Registration Form (Word)
Looking for projects?  Click here to see the list of projects already registered.
Don't see anything that fits your needs yet?  Contact the Bodwell Center at 581-3091 to tell us what dates, times, and size project you need so we can get something planned!
Need service hours for your sports club or student organization?  This is a great opportunity to get a lot of hours done early in the year!!  Don't miss out.  Sign up soon!
For more information about Voluntober, contact the Bodwell Center at 581-3091 or email Lisa Morin at lisa.morin@maine.edu.