Black Bear Exchange
 Your on-campus food pantry
and clothing exchange!!!

VISION
The Black Bear Exchange envisions a community where all those who work, attend, live near and are affected by the University of Maine have equitable access to resources; and where creative, situation-specific collaborations are actively nurtured to meet needs. This community will also value the reuse of goods and seek to eliminate the waste of resources. These actions will minimize dependence on supra-local, socially unaccountable systems and better provide for the well-being of all community members.
Spring 2019 Hours
Mondays – 12:30 – 3:30 pm
Wednesdays – 12:00 noon – 5:00 pm
Saturdays* – 9:00 am -12:00 noon (2/2, 2/16, 3/2, 3/16, 3/30, 4/13, 4/27)
10:00 am – 1:00 pm  (1/26, 2/9, 2/23, 3/9, 4/6, 5/4)
*Saturday hours alternate.  Check dates to make sure you know when we will be open.
Open Wednesday only for Spring Break (March 17-23).
CLOSED for Easter Weekend (March 20) and May 11 – June 1 for Clean Sweep.
Please check our Facebook page and this page for any updated information.  If you have any questions, please call 581-3091.
FOOD PANTRY   
The food pantry is open to students and their immediate families as well as staff and faculty.  There is no income requirement and no application process.  Just present a valid MaineCard or ID from any other college or university to get a BBE Card approved for the food pantry.  Our focus is supporting those who are not able to obtain assistance from other community sources.  For information about other community sources, please view our Bangor Resource guide.
CLOTHING EXCHANGE
The Clothing Exchange is open to anyone and everyone!!!!  People are encouraged to bring gently worn items to exchange/swap or small donations can be made instead.  The money then goes to buy food for the food pantry. Our goal with this sustainable project is to reduce stigma surrounding food pantries and thrift stores while providing support to the community.  If you have clothing to donate, but can't find anything you need right now, you can "bank" your points and use them later.  Know someone that has a need?  Give your points to them!
Want to run a food drive or a clothing drive?  Contact us!  If you would like more information regarding volunteering please contact Lisa Morin  at 581-4194. Remember to join us on Facebook; search for Black Bear Exchange!
How you can help the BBE
Hold a food drive
Basic food drives are always a good choice! Your group can choose to hold a food drive wherever you choose, though Bell's Orono IGA has always welcomed us there. We can also supply you with a list of our main needs that can be handed out to customers as they enter the store.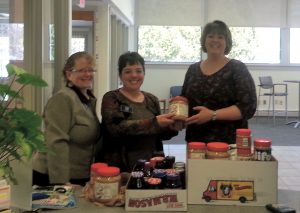 Hold a fundraiser
Pick a fundraiser that fits your group, and its' talents, and then choose to donate the money or buy food to donate.  If you are a musical group hold a small show, if you are an athletic group hold a workout class, just be creative and use what you know!
Make meal kits
We have several recipes that are made mostly from things that can be kept in the BBE.  Your group can hold a fundraiser or a food drive to get the ingredients and put together the meal kits.  This helps give BBE members ideas for healthy, well put together meal with things they can get in the pantry.
Help host an educational event
Part of the BBE is that we want to help people learn how to be healthy no matter what their situation is.  If you or your group have an idea for an educational event let us know!  This includes events such as a film screenings, health or nutrition classes, or other ideas you may have.
Help with advertising
Are you good at advertising?  Do you write for a newspaper or other publication?  We are always looking for help to get our name out there and find new volunteers.  Let us know how you can help.
Something else that fits you group
Do you have an idea for how to help that is not listed here?  Let us know!  Everyone has something different to offer and we are willing to work with you so it can benefit both parties.  Volunteering can be a great way team builder for a group!
Where are we?
55 York Village
University of Maine
Orono, ME
(see map below)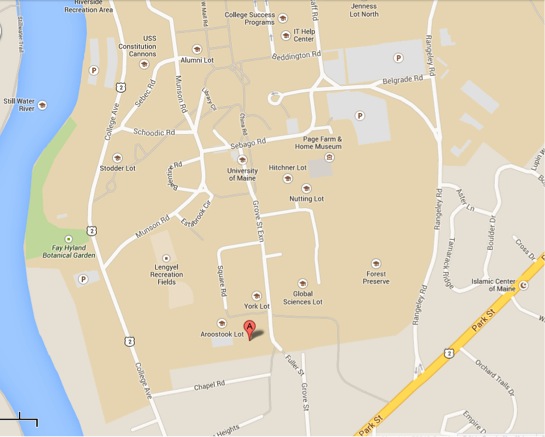 Signage is still being developed.  Red and Black parking is available in the Global Sciences Lot.  Red and Blue parking is available in the Aroostook Lot.  We will have signs out near the parking lots when we are open to help you find us.