DownEast Maine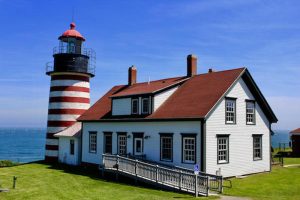 DownEast Maine
The term "DownEast" or "Downeast" is most often defined in Maine as the eastern coastal region of the State that covers Washington County and Hancock County beginning in Ellsworth and stretching to the East all the way to the Maritime Provinces.  Click here for the full story on the origin of the name "DownEast".
Map of DownEast Maine
This map shows you everything you can do in DownEast Maine. The map includes places to eat, shop, and lodge.
Facts about DownEast Maine:
Eastport is the most eastern city in the United States, receiving the first morning sun rays.
Maine is the largest producer of wild blueberries in the world.
Acadia National Park is the 6th most visited national park in the United States.
The coastline boasts so many deep harbors it is thought all the navies in the world could anchor in them.
Eastport was under British rule for four years (1814-1818).
The sun rises on DownEast Acadia before anywhere else in the nation.
DownEast Maine has some of the highest ocean tides on the planet.
DownEast has Several Regions:
"A frontier represents uncharted territory. It could be a remote piece of land or a new field of study, but if someone calls it "the frontier," you are challenged to explore it." (vocabulary.com) Therefore it seemed appropriate to use that word for our DownEast regions.  These areas include but are not limited to the following towns
Westerly Frontier: Brooklin, Sedgwick and Deer isle
The Bar Harbor-Acadia National Park (Mount Desert island) area, which we do not cover on this website
Middle Frontier: Sullivan, Birch harbor, Hancock, Harrington, Cherryfield, Milbridge, and Jonesport
Easterly Frontier: Machias, Cutler, Eastport, and Lubec, .
Northern Frontier: Calais, and Grand Lake Stream
There are many beautiful preserves in DownEast Maine. Here are a few websites you should take a look at!
DownEast Coastal Conservancy: "DownEast Coastal Conservancy conserves natural habitats and resources of the coastal watersheds, islands, and communities of Washington County, Maine, for present and future generations."
Maine Coast Heritage Trust: "Founded in 1970, Maine Coast Heritage Trust is a nonprofit land conservation organization working to keep the Maine coast open, healthy, working, and beautiful." They have many amazing preserves to visit!
If you have any suggestions, please email us at undiscoveredmaine@gmail.com or talk to us on our Facebook page.
The content and information provided within this website is general in nature.  It is not intended as an endorsement.  Although every effort has been made to verify the accuracy of the information, Undiscovered Maine disclaims all liability for any error, inaccuracy, or omission therein.  Rely upon any information contained herein at your own risk.