Current State of UMaine's Waste and Recycling Process: Pandemic Edition
By Sydney Abramovich '21
According to the EPA, as of 2017, over 32% of the nation's municipal solid waste, or MSW, is actually composed of cardboard, paper, and plastics. Before the COVID-19 pandemic shook the world, many campuses, businesses, and lawmakers were working to reduce the amount of single-use plastics utilized by consumers. Since the pandemic has created a need to avoid sharing, this progress is being unraveled as single-use plastics are once again growing in popularity. On UMaine's campus, the once-easy act of going to a dining hall salad bar and picking food with tongs has been replaced with many pre-packaged food options and additional plastic containers. Alongside this, many students and faculty are using disposable masks and gloves in order to protect themselves from pathogens. These are just a few examples of COVID-19 trash, but it prompts the question: where is all of the single-use plastic on campus going after we are finished with it? The campus waste stream is now facing an influx of single-use materials.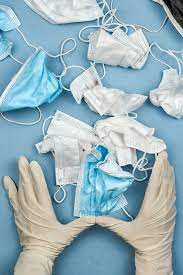 When looking at UMaine's waste management system, it is important to recognize the two waste streams: recycling and Municipal Solid Waste (MSW). In terms of recycling, a state law passed in 1995 requires that UMS campuses must recycle paper, cardboard, and glass at a minimum, and this can be found in Maine Legislation's Title 38 § 2137. The university currently holds a contract with Casella Waste Systems, in which their zero-sort system recycles the required materials as well as aluminum, plastic bottles, paper plates and cups, and some empty food containers (umaine.edu/sustainability/initiatives/recycling). Unfortunately, items like styrofoam, batteries, and plastic bags are not-recyclable. Jim Dunning, the assistant general manager of Casella, was able to provide some information about where these materials end up. He says, "After the sorting is all done, we transport the rest of the materials to Juniper Ridge landfill in Alton, which is a state-owned landfill. We try to take as much out as possible before this happens."
It is also worth noting that not everyone knows what can and cannot be recycled, so some recyclables end up in municipal waste as well. Since the UMaine campus is located in Orono, we are required by law to follow the same MSW disposal processes as the town, and this led to the campus working with Coastal Resources of Maine, LLC (CRM) for its MSW processing.
Formed in 1991, the Municipal Review Committee (MRC) is a non-profit membership organization composed of 115 Maine municipalities, of which Orono is one. The MRC sought to restructure long-term agreements for MSW disposal at a waste-to-energy plant in Orrington, Maine, known as the Penobscot Energy Recovery Company (PERC) facility. In 2007, the MRC Board began a process for evaluating alternative arrangements for managing MSW after March 31, 2018, when the disposal contracts with PERC were scheduled to expire. Through a competitive process beginning in 2013, the MRC selected Fiberight to develop a new MSW processing facility that would utilize proprietary and innovative technology. The MRC purchased a site in Hampden where the facility could be constructed. CRM is the project company formed by Fiberight to finance, own, and operate the Hampden project. MRC owns the land on which the Hampden facility sits and leases the property to CRM.
At the Hampden facility, CRM uses the Fiberight process to support their mission, which is to repurpose and recycle as much MSW as possible in a closed-loop fashion. It has been proven that the Fiberight process can divert 60-80% of MSW from landfill instead of the usual 10-30%. Shelby Wright, the director of community services at CRM, explained how the Fiberight technology works: "We use a seven-step process that sorts items, and from there we can make glass into value-added products, convert organic wastes into renewable natural gas, pulp paper products, and make some of the less valuable materials into bricks that can be burned for energy." When looking at the hierarchy of waste management, reusing and recycling sit high on the chart, while landfilling and waste-to-energy sit at the bottom. According to the Department of Environmental Protection, Maine's MSW recycling rate was at 36.8% as of 2016, and companies like CRM could help increase that percentage with the Fiberight process. Unfortunately, financial stresses, in part due to COVID-19, put CRM into a shutdown as of late May 2020. The MRC is currently in talks with an interested party based out of Pennsylvania, Delta Thermo Energy, and other stakeholders about getting the Hampden facility up and running again. A deal with Delta Thermo Energy is expected by June 30, 2021.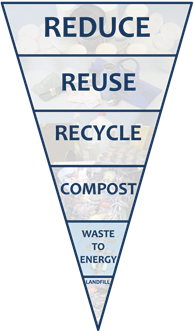 With CRM's closure, Orono and the university were obligated to temporarily send their MSW to a local landfill (Crossroads Landfill in Norridgewock), until PERC agreed to receive the waste. PERC uses an industrial incinerator to burn MSW and produces electricity for residents in mid-coast Maine. Their process is effective in reducing the amount of trash entering landfills, but incinerating disposable plastics such as food containers and masks can release harmful chemicals and fossil carbon into the atmosphere. Dunning mentioned that after PERC incinerates, they have large volumes of ash as a byproduct, and Casella uses this ash as a landfill cover at Juniper Ridge. Although landfilling and incineration are not the most environmentally efficient forms of waste management, this interaction shows resourcefulness and cooperation.
When taking this all into consideration, there's clearly many stakeholders and systems involved with the transportation and processing of UMaine's recycling and MSW. These systems are complex, and the content of our MSW and recycling has been changing as a result of the COVID-19 pandemic. Both Wright and Dunning mentioned that waste companies are seeing a substantial increase in cardboard and single-use containers as a result of COVID-19, as more people are online shopping and using extra plastic packaging to keep contamination to a minimum. Since the disposable masks and gloves we see on a daily basis are not typically recyclable, they are most likely being incinerated at PERC or sent to the Crossroads Landfill. Personal protective equipment was not being discarded in such high volumes previously, so the recent widespread increase in use has left MSW and recycling plants with an unusually large amount of disposable PPE to handle. At the end of the day, there are still many hurdles society needs to overcome in order to create a more sustainable waste management system, like finding ways to process hard-to-recycle materials. COVID-19 is not making this any easier. Hopefully, COVID-19 will subside and efforts to reduce and repurpose waste can continue to move in a more positive and sustainable direction.