From Climate Despair to Climate Action: Blue Hill Peninsula's Climate Action Net
By Amanda Bertana and Anthony Ferrara
Even as seas rise against the shores,
another great tide is beginning to rise–
a tide of outrage against the pillage of the planet,
a tide of commitment to justice and human rights.
-Kathleen Dean Moore
Abstract
In 2019, Reversing Falls Sanctuary, in collaboration with local artist, Robert Shetterly, initiated the beginnings of a broad-based local effort to address climate change. The community at RFS had been involved in many educational and practical forays into climate adaptation and mitigation for several years prior. In this essay, we reflect on the development of Blue Hill Peninsula's Climate Action Net, a community organized climate change initiative. Through sustained efforts by a small group of thoughtful and committed citizens, the residents of Maine's Blue Hill Peninsula have transformed an idea into collective action. At the same time, they have strengthened community ties through a shared concern for climate change.
Introduction
Concerns about the impacts of climate change, such as coastal erosion, biodiversity loss, and resource scarcity have generated incremental changes by large-scale institutions. Yet, most climate change policies and adaptation efforts are criticized for relying heavily on technocratic solutions and market-based principles that uphold the status quo (Mulberg 2003). In addition, the failure of government regulations and top-down carbon markets to adequately regulate the top emitters of carbon dioxide and other greenhouse gases has generated a shift in the way the public approaches solutions to climate change (Ferguson and Lovell 2015). Disgruntled with slow moving political inaction, people are taking to the streets more frequently and organizing on the local level.
We are currently in the middle of what some scholars and climate advocates refer to as an ecological revolution (Foster 2019). By ecological revolution, we mean a growing climate activist movement that has spread across the world and is being led by ordinary people. The global climate movement gained further momentum following the Intergovernmental Panel on Climate Change (IPCC) 2018 report, which issued a dire warning that carbon emissions need to drop 45 % below their 2010 levels by 2030 in order to avoid catastrophic climate impacts such as stronger and more intense storms along with more droughts and heat waves. Every IPCC report has referenced the consequences that anthropogenic climate change will have on the well-being of human beings and the ecosystem, but this report was different. It called for urgent transformational changes across the energy, industrial, and urban sectors (IPCC 2018). The urgency specified in the report reinvigorated existing movements all over the world. Just a month after the publication of the report, protestors in the UK with Extinction Rebellion, a global environmental movement, blocked off access to five London bridges with the demand that the British government declare a climate and ecological crisis and begin action to reach net zero carbon emissions by 2025 (Klein 2019). Nearly a year later, four million people participated in a global climate strike demanding more climate mobilization in the political arenas (Foster 2019). As people marched in the streets making sure their governments heard their grievances, communities in Maine were organizing around community-centered climate change solutions.
Forming A Community Climate Action Group
Frustrated with the ongoing political debates about the anthropogenic nature of climate change and the organized denial of climate change by political elites (McRight and Dunlap 2011), members of the Blue Hill and Brooksville communities decided to take action on a local level. Reversing Falls Sanctuary's Climate Action Group and local artist Robert Shetterly organized the Climate Change Convergence Conference to bring together community members, scientists, local political representatives, and high school students to talk about climate change and promote science-based policy. On July 20, 2019, over 200 participants and volunteers gathered in the auditorium of George Stevens Academy for the conference.
The mission was to promote the conference as a tool to build momentum for a climate movement that would alter the nature of the public discourse regarding climate change, empower community advocates, and brainstorm local solutions for climate change. In addition to promoting local, science-based climate policy, the conference made it clear to participants that we are not alone with our concerns about the health and ecological trajectory of our planet. Individuals were encouraged to harness the feelings of powerlessness into action by sharing stories of success about local climate initiatives.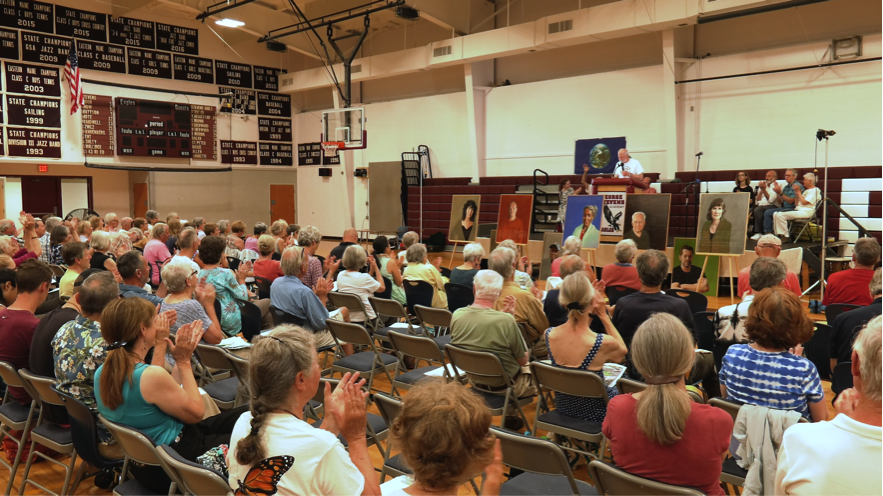 The conference had two distinguishing features: (1) it was a collaborative effort of people across sectors, and (2) it actively engaged the youth. The theme throughout the conference was convergence—unification—"the convergence of the different generations, the convergence between the physical and social sciences, and the convergence among organizations willing to champion science and acknowledge that life on earth is in jeopardy." The idea of convergence illustrated the fact that climate change cannot be appropriately addressed within societal silos. Instead, it requires practical solutions that bring together multiple ways of seeing the world, people, and sectors. Only through collaboration, can change emerge.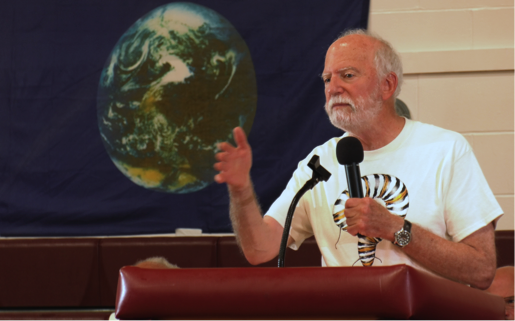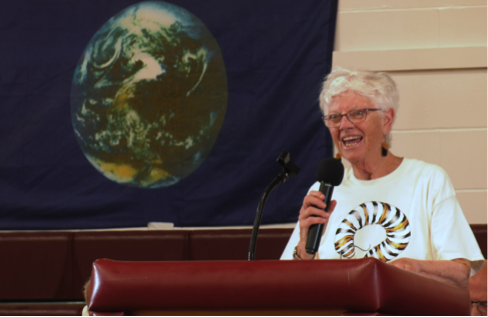 A distinguishing feature of the conference was that it actively engaged the schools and the youth. For everyone involved in the planning of the conference, it was critical that the youth take an active leadership role. Not only are they members of the community, but their future is especially compromised by the effects of climate change. This was illustrated at the beginning of the conference as young people were invited to speak and describe how the climate crisis feels to them. Local schools were included in the planning of the Climate Convergence Conference and several impassioned students energized the audience with their passion, their knowledge and their commitment to bring about change in our troubled world.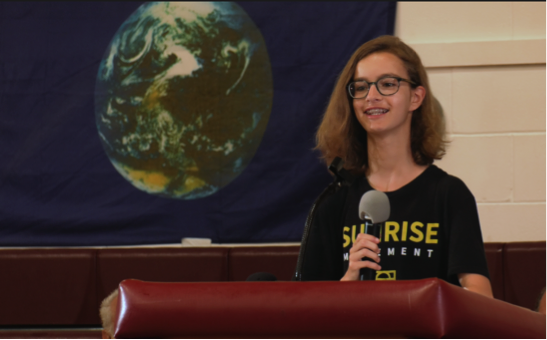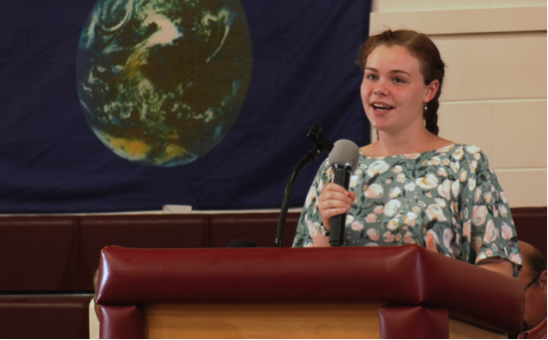 Climate Action Net
The Convergence Conference was a successful endeavor in inspiring concerned citizens and local organizations, but it was just the beginning. Inspired by the excitement generated by the conference, participants were mobilized to create actionable solutions in the local community. Working within RFS, they created the Climate Action Net (CAN), a local climate change initiative focused on equitable solutions to climate change.
CAN is organized into, but not limited to, five working groups: energy, food, education, direct political action, and environmental protection. These topics were chosen as focused interest groups because they require transformational change, and intersect with topics where the group has the tools needed for solutions. While the energy sector contributes approximately 30% of total US carbon emissions (EPA 2019), communities on the Blue Hill Peninsula are proposing a shift to localized solar energy. Similarly, the agro-industrial food system is responsible for approximately 20-30% of global greenhouse gas emissions (Mohareb, Heller, and Guthrie 2018). But creating a strong local food system will both decrease greenhouse gas emissions and create more accessible healthy foods for all residents.
The working groups see direct political action and educational tools through the school system as a means to implement these structural changes. The last working group, environmental protection, is focused on tangible solutions to not only land-based but also coastal protection, which is an ongoing concern for people that live along Maine's coast. Chief scientist Andrew Pershing (2015) and his colleagues at the Gulf of Maine Research Institute found that between 2004 and 2013, the Gulf of Maine warmed faster than 99.9% of the global ocean. While we cannot say for certain what type of impact this will have on our coastline, we do know that these warming trends will impact the ecosystem services that Maine's cultural heritage and economy rely on. In order to adapt, we need to prepare our communities to plan for potential impacts and focus on building community resilience.
What does CAN do? The overall goal of CAN is to facilitate conversations and strategically organize mobilization efforts. The working groups are intended to be member driven and may take different forms, whether it is planning a specific event, art activism, writing grants, seeking musicians to participate in community events, assisting with social media outreach efforts, holding public informational meetings on policy changes, and/or community outreach. Through these combined individual efforts, CAN operates under a shared mission of community engagement. This is emphasized in the community events that CAN has held, and plans to continue organizing in the future. For instance, in October 2019, CAN organized and invited community residents to the Climate Action/Open Mic potluck at Brooksville's Tinder Hearth, where people gathered to share great food, inspiring speeches, and good music.
Outside of the working groups, CAN organizes rallies to stand in solidarity with other environmental organizations and climate strikes. For instance, on November 29, 2019, CAN held a Black Friday Climate Rally to protest the day associated with consumerism and draw attention to the ecological degradation caused by a cultural addiction to conspicuous consumption. However, CAN also used this as an opportunity to draw attention to other climate movements, including Extinction Rebellion's efforts, the Global Student Strike, and Fridays for Future, the youth climate movement started by the Swedish climate activist Greta Thunberg.
Conclusion
The collective action on the Blue Hill Peninsula highlights a very simple but profound reality—many small groups are doing something to combat climate change. Towns in Maine and throughout the world are banding together to build resiliency towards the climatic shocks they anticipate in the near future. High school students are starting movements, nonprofits are investing in window inserts to help insulate the houses in their communities, and residents are pressuring their municipalities to invest in clean energy initiatives. By connecting these small groups, we can soon realize that as individuals, we are part of a larger Climate Action Net.
---
Resources
For more information about Blue Hill's Climate Action Net, visit: https://reversingfalls.org/climate-action-net
If you are interested in starting your own community initiative, the Maine Chapter of the Sierra Club offers support and a step-by-step guide on how to start a local Climate Action Team: https://www.sierraclub.org/maine/maine-climate-action-teams
To find a list of existing environmental organizations throughout Maine, visit: http://www.eco-usa.net/orgs/me.shtml
---
About the Authors
Anthony Ferrara, an educational psychologist, has been active in education starting with Head Start programs in the early 1960s to supervising graduate students in the 2000s.  For 35 years, he developed and led a career counseling program for the City University of New York. He was also a facilitator of a Peace Studies Seminar at New York City Technical College where he impacted hundreds of students concerned with social justice issues. His love for science led him to fully engage the new scientific Universe Story that emerged in the latter part of the twentieth century.  This story, with its emphasis on the interconnectedness of all beings, was pivotal in directing Anthony's gaze to the science of global warming and its consequences for our Earth.  Being a grandfather was further motivation to work unflinchingly for assuring a livable planet for all of Earth's children.
Amanda Bertana, PhD is a Postdoctoral Fellow for the Scholars Strategy Network, Maine Chapter. She received her PhD in Sociology from the University of Utah. Her primary area of research is on the human dimensions of global environmental change and its effects (flooding, coastal erosion, more frequent and intense storm surges) on local communities. She has done extensive ethnographic fieldwork in the Fiji Islands looking at ways the Government of Fiji is assisting rural coastal communities with relocating as an adaptation response to coastal erosion.
References:
Environmental Protection Agency. 2019. "Sources of Greenhouse Gas Emissions." https://www.epa.gov/ghgemissions/sources-greenhouse-gas-emissions (accessed November 19, 2019).
Ferguson, Raffer Sass and Sarah Lovell. 2015. "Grassroots Engagement with Transition Sustainability: Diversity and Modes of Participation in the International Permaculture Movement." Ecology and Society 20(4):39. DOI http://dx.doi.org/10.5751/ES-08048-200439
Foster, John Bellamy. 2019. "On Fire This Time." The Monthly Review 71(6):1-17.
Klein, Naomi. 2019. On Fire: The Burning Case for a Green New Deal. New York: Simon and Schuster.
McRight, Aaron and Riley Dunlap. 2011. "Cool Dudes: The Denial of Climate Change Among Conservative White Males in the United States." Global Environmental Change 21(4):1163-1172.
Mohareb, Eugene, Martin Heller, and Peter Guthrie. 2018. "Cities' Role in Mitigating United States Food System Greenhouse Gas Emissions." Environment Science Technology 52(10):5545-5554.
Moore, Kathleen Dean. 2016. Great Tide Rising: Towards Clarity and Moral Courage In A Time of Planetary Change. Berkeley: Counterpoint Press.
Mulberg, Jon. 2003. "Environment and Sociology: The State of the Debate." Global Environmental Politics 3(1):125-142.
Pershing, Andrew, Michael Alexander, Christina Hernandez, Lisa Kerr, Arnault Le Bris, Katherine Mills, Janet Nye, Nicholas Record, Hillary Scannell, James Scott. Graham Sherwood, and Andrew Thomas. 2015. "Slow Adaptations in the Face of Rapid Warming Leads to Collapse of the Gulf of Maine Cod Fishery." Science 350(6262):809-812.
Reversing Falls Sanctuary. 2019. "Climate Convergence Conference." https://www.reversingfalls.org/climate-convergence-conference (accessed November 19, 2019).