Halle Rogers wins the Ryan Dana Wright Memorial Award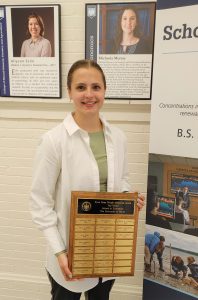 Halle Rogers, an undergraduate senior, was awarded the Ryan Dana Wright Memorial Award. The award criteria includes "scholarship, public service, extracurricular activities and other meritorious attributes."
She has a 4.0 GPA, and she has a Presidential Scholar, a Flagship Match Commitment Scholarship, a UM Athletic Scholarship, and a Lavery Economics Scholarship.  Halle was admitted into Alpha Kappa Delta, the International Honor Society for Sociology, and into Phi Kappa Phi, the International Honor Society for all disciplines.
She is involved in several volunteering opportunities throughout her collegiate career, but the most significant experience she had is with the Christine B. Foundation (CBF). CBF is a non-profit service provider in Bangor, Maine that is community-based. CBF does a lot for families that are burdened with cancer, but the volunteering is typically based on food collection and organization for these families that are facing the high costs of treatment.
Halle is a soccer star, she has been awarded by America East: Defensive Player of the week, All Academic Team, First Team All-Conference, and Defender of the year. In addition she was awarded by United Soccer Coaches: First Team All-Atlantic Region, First Team Scholar All-East Region and All-American Scholar.
The Ryan Dana Wright Memorial Award has a financial award and SOE engraves the student's name and date on a plaque in the main office.