Social justice and equity at the School of Social Work
Updates on social justice and equity activities
Social justice is a cornerstone of the social work profession and taken very seriously at the
UMaine School of Social Work (SSW). In 2021, we pledged a renewed commitment to anti-racism, diversity, equity, and inclusion (ADEI) at the SSW.  We began working Nico Chin in fall 2021 to advance racial justice and equity at the SSW.
An Equity Stewardship Team (EST) was created to work closely with Nico to steward the SSW and its many constituencies through the process.  The EST currently consists of:
Nancy Kelly (part-time faculty, Field Instructor)
Ann Hartman (alumna, part-time faculty, Field Instructor)
Leah Maxwell (Field Director, alumna)
Len Kaye (Professor)
Elizabeth Armstrong (Associate Professor)
Sandy Butler (Director, Professor)
Tyler DuBois (MSW Student)
Olive Morelli (MSW Student)
Drew Parent (BSW Student)
The EST thanks three founding members, Athena Bryce, Moriah Geer, and Casey Faulkingham, all alumni, who gave hours of their time in our initial work with Nico.
Chronology of our work with Nico
Spring 2022
Nico completed her Landscape Mapping of the School of Social Work and provided the Equity Stewardship Team with a memo of her recommendations.  This was shared through several town hall meetings, and feedback was gathered.
Fall 2022
The Equity Stewardship Team presented its plans for Phase Two of our work toward racial justice and equity at the School of Social Work:  Proposed Action Steps Toward Racial Justice and Equity Phase Two.  We held two listening sessions with the SSW community to gather feedback.
Activities from November 2022 through May 2023
A report on Phase Two, as of June 2023, can be seen on this short video (link to zoom recording) and include among other things:
A three-part series of trainings, facilitated by Nico on a set of community practices, with 30 members of the SSW community, including students, faculty, alumni, staff, and field instructors. After the trainings, the faculty voted in April 2023 to test out these practices for one year and the EST will work on methods of implementation.
An ad hoc advisory committee made up of Black, Indigenous, and People of Color (BIPOC) students and alumni was formed in spring 2023 to provide feedback and suggestions on the EST's work for five months (through June 2023). This committee is composed of the following seven members:

Favour Akhidenor
Athena Bryce
Gen Doughty
Tyler Dubois
Jean Pierre Nizeyimana
J. Reid
Mali Soctomah 
Feedback Form
A feedback form for submitting suggestions, thoughts, feedback, etc. is available online. Submissions can be anonymous.
Video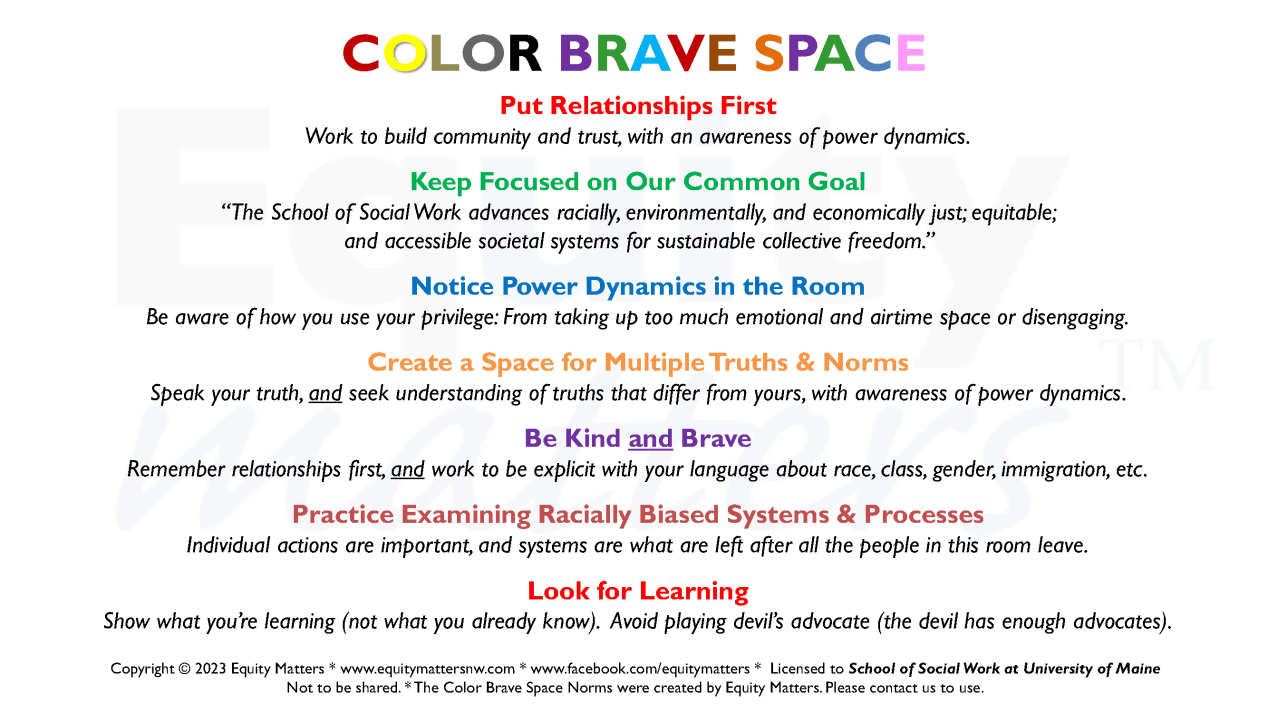 Color Brave Space text
COLOR BRAVE SPACE
Put Relationships First
Work to build community and trust, with an awareness of power dynamics.
Keep Focused on Our Common Goal
"The School of Social Work advances racially, environmentally, and economically just; equitable;  and accessible societal systems for sustainable collective freedom." 
Notice Power Dynamics in the Room
Be aware of how you use your privilege: From taking up too much emotional and airtime space or disengaging.
Create a Space for Multiple Truths & Norms
Speak your truth, and seek understanding of truths that differ from yours, with awareness of power dynamics.
Be Kind and Brave
Remember relationships first, and work to be explicit with your language about race, class, gender, immigration, etc.
Practice Examining Racially Biased Systems & Processes
Individual actions are important, and systems are what are left after all the people in this room leave.
Look for Learning
Show what you're learning (not what you already know). Avoid playing devil's advocate (the devil has enough advocates).
Copyright © 2023 Equity Matters * www.equitymattersnw.com * www.facebook.com/equitymatters * Licensed to School of Social Work at University of Maine  Not to be shared. * The Color Brave Space Norms were created by Equity Matters. Please contact us to use.