MSW Alumn named NASW Maine Chapter Executive Director
NASW Maine Chapter Welcomes New Executive Director, Chris McLaughlin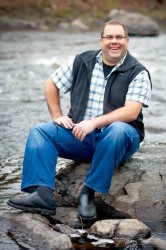 The National Association of Social Workers (NASW), Maine chapter, is excited to announce Chris McLaughlin, MSW, LCSW, as our new Maine Chapter Executive Director.
Chris is the founder and owner of Inspired Consulting Group, LLC. A lifelong resident of Maine, he obtained both his BA in Psychology (1996) and his MSW (2001) from the University of Maine in Orono and he has a certification in Diversity and Inclusion from Cornell University.
"I am excited that Chris is taking on this leadership role with NASW Maine", says Brandy Brown, LCSW, NASW Maine Chapter Board President, "he has shown a level of commitment over the years to the profession and to the values of social work. Chris has experience in micro and macro practice and for years I have known him to be a fierce advocate for the social work field, the clients we serve, and for system change."
Chris has spent the last 20 years providing behavioral health services to youth and families across a variety of clinical settings. In addition to his consulting work, Chris is an adjunct faculty member at the University of Maine in Orono and Husson University in Bangor.
In recognition of his advocacy work with Maine LGBTQ+ youth and the Acadia CARES program, Chris was honored as the 2019 Health Care Social Worker of the Year by the Maine Hospital Association and the Maine Chapter of the Society for Social Work Leadership in Health Care (SSWLHC). Chris was also the 2019 recipient of the National SSWLHC's Eleanor Clark Award for Innovative Programs in Patient Care for his work on youth suicide prevention. In 2020, Chris was given the distinction of being named the University of Maine School of Social Work's Alumnus of the Year.
"Having Chris as a colleague at NASW is incredibly exciting, says Lynn Stanley, LICSW, Executive Director of NASW NH and NASW VT, "He brings a clear commitment to social work mission and values to his work."