Audio and Video Resources
Advancing to Full, Nov. 14, 2013 – View the streaming video the annual panel discussion that offers tips and strategies to help new and junior faculty prepare for promotion. Participants include Karen Horton, Professor of Mechanical Engineering Technology; Mike Kinnison, Professor of Evolutionary Applications; John Kidder, Human Resources Partner, Jennifer Moxley, Professor of English; and Michael Wittmann, Professor of Physics and Cooperating Associate Professor of Education.
Advancing to Professor, March 24, 2011 – Watch a YouTube video from this networking event offered in support of faculty seeking promotion to professor. Discussion included topics relevant to service on a peer committee and advice and tips for faculty in the academic pipeline.
ADVANCING WOMEN IN ACADEMIA: Annual Networking Conference – Enjoy the keynote speeches from our annual conference, delivered by Dr. Kelly Ward of Washington State University (2012), Dr. Jaime Lester of George Mason University (2013),  Dr. Daryl Smith of Claremont Graduate University (2014), Annie Houle of the WAGE Project (2015), and Dr. Erin Kelly of MIT (2016).  These presentations have highlighted a number of faculty issues that disproportionately affect women including integration of teaching, research and service; work and family concerns; and faculty diversity in science, technology, engineering and math (STEM) and the persistence of the gender gap in salaries in academia and in business.
2016 Keynote Speech by Dr. Erin Kelly: Redesigning Work: Findings from the Work, Family and Health Network and Implications for Gender Equity in the Academy
2015 Keynote Speech by Annie Houle: $tart with a Dream
2014 Keynote Speech by Dr. Daryl Smith: Diversifying the Faculty for the Next Generation-Debunking the Myths
2013 Keynote Speech by Dr. Jaime Lester: Women Can't Have it All? Work-life Issues in Higher Education
2012 Keynote Speech by Dr. Kelly Ward: Female Faculty and the Academic Career: Early and Mid Career Perspectives
Additional Resources
Videos of selected workshops conducted at our annual conference can be viewed using the links below.
Effective Strategies for Recruiting and Retaining Women Faculty: Dr. Daryl Smith (2014)
Fostering Collaborations Across Institutions: Dr. Linda Silka (2014)

Fostering Civility – Workplace Bullying in Higher Education: Dr. Jaime Lester (2013)
Grant Seeking Strategies – Mining Expertise: A Panel Discussion featuring accomplished faculty from UMaine, USM and Bowdoin College (2015)
Negotiating for What you Want: Dr. Anne Litwin (2013)
Wage Equity: Annie Houle, co-founder of the WAGE Project Maine (2015)
Working to Solve Maine's Dual-Career Challenges: Carin Sychterz, Director Maine Career Connect (2016)
Complimentary copies of the presentations made at our annual networking conference are also  available on DVD – call the  ADVANCE Rising Tide Center to request yours.
---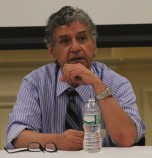 Dr. Terry Shehata, Maine Economic Improvement Fund Coordinator at the University of Southern Maine and Executive Director of the Maine Space Grant Consortium, shares grantsmanship tips at the 2015 ADVANCING Women in Academia networking conference.