Physics Education Researchers Give 21 Summer Presentations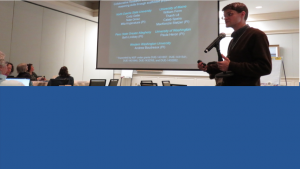 Members of the Physics Education Research Laboratory (PERL) were extremely active at national meetings this past summer.
The conference season started off with the Third Conference on Laboratory Instruction Beyond the First Year (BFY III) at Loyola University Maryland, where two members of PERL presented one poster and also offered a workshop on flexible resources for supporting student understanding of diode circuits.  At this summer's national meeting of the American Association of Physics Teachers (AAPT), work by members of the Physics Education Research Laboratory (PERL) was also prominently on display. Members of the group gave a workshop, an invited talk, 9 contributed talks, and 2 posters. In addition, at the international Physics Education Research Conference that immediately followed the AAPT meeting, members of PERL presented 5 posters and participated in a poster symposium. In total, members of the group gave 21 presentations.
Presenters included faculty and PhD students from PERL, MST students from the Center for Research in STEM Education (RiSE Center), undergraduate students from the Department of Physics and Astronomy, graduates of the MST program who are now teachers in Maine, former post-doctoral researchers from the RiSE Center who are now faculty at other institutions, and collaborators from throughout the US.
Topics included: student understanding of advanced physics and mathematics topics, investigations to test models of learning and reasoning, interdisciplinary work on the use of physics in biology and the use of mathematics in physics, and investigations of teacher knowledge.
For more information about physics education research, click here.