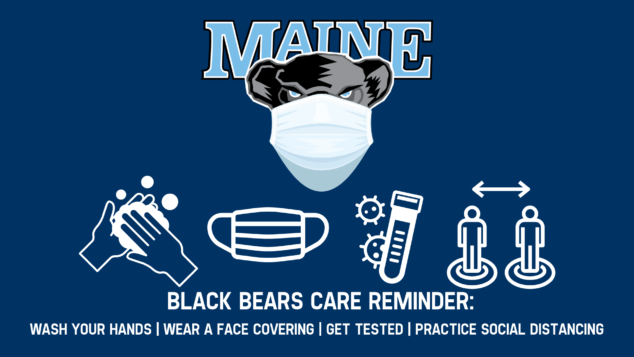 The University's Response
Our comprehensive plan, Black Bears Care, allows for all of us to reduce the risk posed by the Coronavirus pandemic by taking certain precautions.
These documents provide more about what UMaine is doing to keep everyone safe and the expectations for every member of our community in the form of the Black Bear Pact, where we ask that you protect yourself, protect others, and protect the College of Our Hearts Always!
As a Black Bear you should remember to:
Use a face covering | Get tested | Wash your hands | Practice social distancing
---


CONTINUE YOUR COMMITMENT
TO THE FOLLOWING:
PROTECT MYSELF
Monitor for the symptoms of COVID-19 personally and via the symptom monitoring app. Report to a medical professional if fever of 100.4° F (38° C) or higher, dry cough, difficulty breathing, chills, repeated shaking with chills, muscle pain, headache, sore throat or loss of taste or smell
Self-report by calling the university COVID-19 Hotline, 207.581.2681, if a medical professional has asked you to isolate or quarantine due to COVID-19 diagnosis or close contact
Wash my hands often with soap and water, or use hand sanitizer
Get vaccinated for the flu each fall
Keep myself educated on the COVID vaccination
PROTECT OTHERS
Maintain appropriate social distancing (6 feet), especially in indoor settings
Stay home if feeling ill or after exposure to someone who is ill or has tested positive for COVID-19
Wear an appropriate face covering and other protective gear as directed by the university
Be positive, sensitive and helpful to anyone around who may be troubled or struggling
PROTECT THE COLLEGE OF OUR HEARTS ALWAYS
Keep clothing, belongings, personal spaces and shared common spaces clean
Participate in testing and contact tracing to preserve the wellness of the community
Carefully observe instructional signs and follow directions
Minimize travel outside the local area to help prevent community transmission; university-sponsored travel is restricted
Get tested regularly
Black Bears Care Plan
Black Bears Care is the public health/social conscience plan for the University of Maine community to help limit the spread of COVID-19. The University of Maine continues to develop tools and protocols for the successful resumption of instruction and activities, working in conjunction with the University of Maine System, and state and federal offices.
During these unprecedented times, with the impact of a global pandemic, we continue to define tomorrow. 
It will require every one of us to do our part to keep our community safe as we return for a new academic year.
To view the entirety of the Black Bears Care Plan, please open the PDF below. 
CDC Information
The Centers for Disease Control (CDC) provide informed guidance about reducing the risk of the COVID-19 pandemic, including a variety of posters, some of which are provided below. Feel free to post and share as appropriate.
UMaine Branded Signs
This collection provides multiple options for all offices and departments on campus to remain consistent in our messaging. It includes topics such as recommended methods to reduce risk, notices of space closures, changes to office operations, and other helpful information.
For members of the UMaine community, this page, the umaine.alerts@maine.edu email and a COVID-19 information line — 207.581.2681 — will be maintained with campus and UMS updates, answers to frequently asked questions, and information on resources.