University of Maine System Grand Challenge Pilot Initiative Launch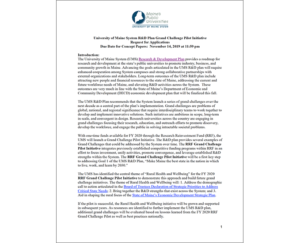 The University of Maine System (UMS) Research & Development Plan provides a roadmap for research and development at the state's public universities to promote industry, business, and community growth in Maine. Advancing the goals articulated in the UMS R&D plan will require enhanced cooperation among System campuses and strong collaborative partnerships with external organizations and stakeholders. Long-term outcomes of the UMS R&D plan include attracting new people and financial resources to the state of Maine, addressing the current and future workforce needs of Maine, and elevating R&D activities across the System.  These outcomes are very much in line with the State of Maine's Department of Economic and Community Development (DECD) economic development plan that will be finalized this fall.
The R&D Plan recommends that the System launch a series of grand challenges over the next decade as a central part of the plan's implementation. Grand challenges are problems of global, national, and regional significance that require interdisciplinary teams to work together to develop and implement innovative solutions. Such initiatives are ambitious in scope, long-term in scale, and convergent in design. Research universities across the country are engaging in grand challenges focusing their research, education, and outreach efforts to promote discovery, develop the workforce, and engage the public in solving intractable societal problems.
With one-time funds available for FY 2020 through the Research Reinvestment Fund (RRF), the UMS will launch a Grand Challenge Pilot Initiative. The R&D plan provides several examples of Grand Challenges that could be addressed by the System over time. The RRF Grand Challenge Pilot Initiative integrates previously established competitive funding programs within RRF in an effort to focus investment, unify activities, promote convergence, and leverage established R&D strengths within the System. The RRF Grand Challenge Pilot Initiative will be a first key step to addressing Goal 1 of the UMS R&D Plan, "Make Maine the best state in the nation in which to live, work, and learn by 2030."
The UMS has identified the central theme of "Rural Health and Wellbeing" for the FY 2020 RRF Grand Challenge Pilot Initiative to demonstrate this approach and build future grand challenge initiatives. The theme of Rural Health and Wellbeing will: 1. Address the demographic call to action articulated in the Board of Trustees Declaration of Strategic Priorities to Address Critical State Needs; 2. Bring together the R&D strengths that exist across the System; and 3. Aid in shaping the rural focus of the State of Maine's Economic Development Strategic Plan.
Request for Concept Papers
UMS faculty/staff/students are invited to submit concept papers addressing the central theme of Rural Health and Wellbeing. Concept papers are due on November 14, 2019 at 11:59 p.m. A program announcement that includes full details about the competition can be found within the InfoReady grant review portal.
Questions about the program can be directed to UMS R&D Plan Implementation Director, Jason Charland at jason.charland@maine.edu or 207.581.2461