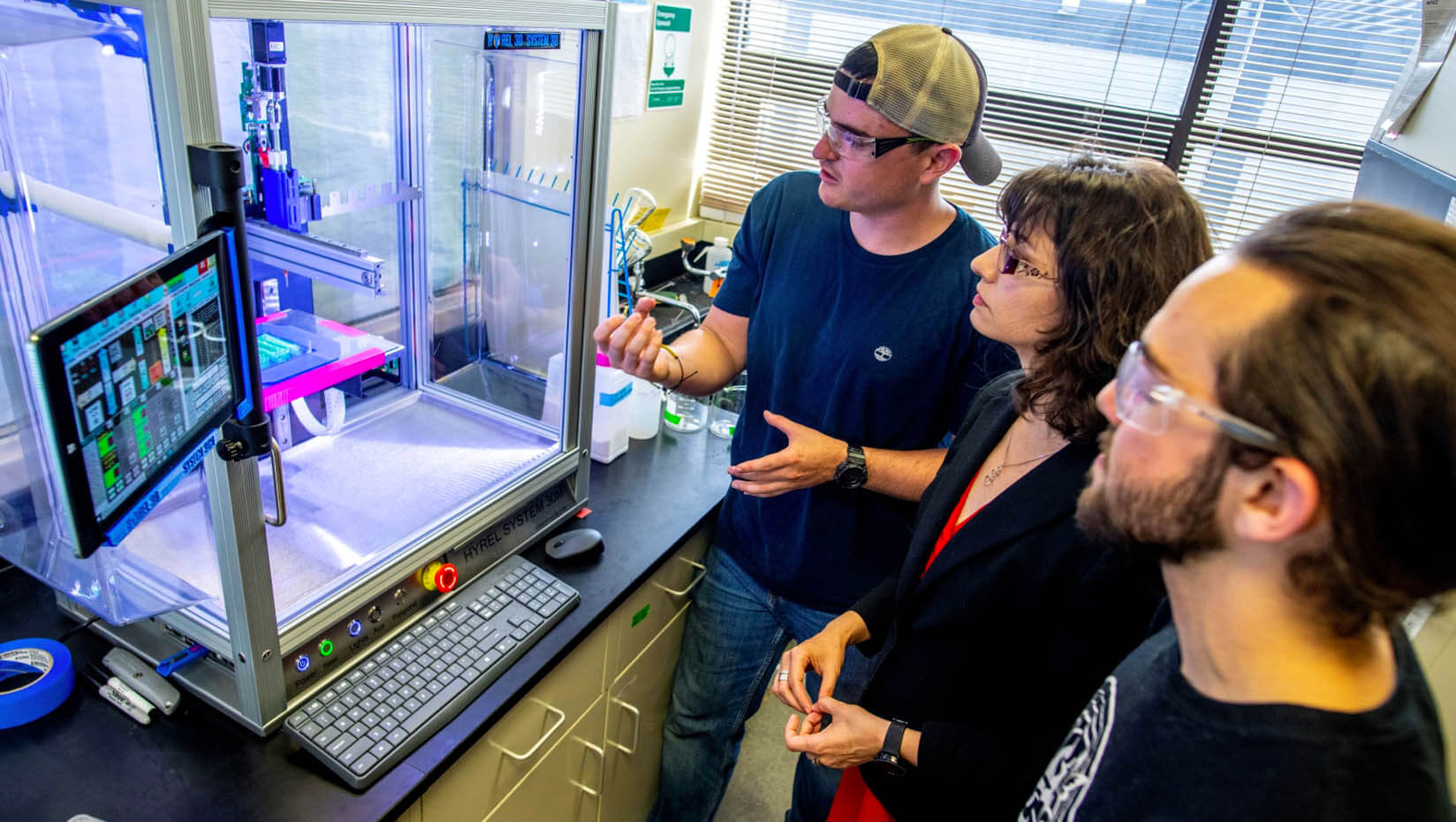 State's research community to gather at UMaine's second annual Maine Research Symposium on Biomedical Science and Engineering
The University of Maine Institute of Medicine announced that it is hosting the second annual Maine Research Symposium on Biomedical Science and Engineering from Oct. 25–27. Events will take place at a variety of locations on the university's flagship campus in Orono. Partner organizations participating in the symposium include The Jackson Laboratory (JAX), MDI Biological Laboratory, MaineHealth, Northern Light Health, the University of New England, the University of Southern Maine and the Roux Institute.
"This three-day gathering features scientists who live and work in Maine," said Cecile Ferguson, a program manager at the UMaine Institute of Medicine. "It's a great way, in a short period of time, to understand, experience and appreciate the full spectrum of advanced research that's being conducted in our state. The new knowledge being generated through local research efforts is helping to create the jobs of the future and improve Maine citizens' quality of life."
The first day of the event will be divided into two educational tracks. Track A, at the Wells Conference Center, will be devoted to speakers participating in the 18th Annual University of Maine Clinical Geriatrics Colloquium. Educators and practitioners from across the state will address topics related to aging at this academic conference. Included among the invited speakers are Dr. Cliff Singer, chief or the Center for Geriatric and Mental Health at Acadia Hospital. He will be the featured speaker at the UMaine Institute of Medicine's Distinguished Mental Health Lecture. This year's topic is the Impact of Alzheimer disease in older adults. Dr. Amanda Gesselman from the Kinsey Institute and more than a dozen other experts in various age-related disciplines will also be making presentations.
Track B at the Collins Center for the Arts that day will be focusing on mental health. Topics will include presentations on Alzheimer's Disease, youth suicide, rural mental health, religious leaders' mental well-being, psychosis specialty care and much more.
Research related to medicine and health care will be the focus of two more tracks open to attendees as part of the symposium's second day at the Wells Conference Center on Thursday, Oct. 26. Track A will be devoted to oncology, translational medicine and an industry workshop. Track B will include research into the microscopic aspects of cells and other objects that cannot be seen with the naked eye (microscopy), cell signaling, kidney health and pathogen research.
The Maine Research Symposium will continue at the Wells Conference Center on Oct. 27 in Room 1. Symposium presentations on Friday will be devoted to clinical research, rural medicine and public health.
In the Conference Center's Rooms 2 and 3, the Maine Rural GME Education (MERGE) Collaborative will host its first Graduate Medical Education (GME) event devoted to rural health care. The MERGE Collaborative is part of a state-funded initiative designed to strengthen rural Maine's health care workforce and delivery system. As part of this effort, the collaborative is promoting rural elective rotations for graduate medical education resident physicians. Sessions will include topics on teaching techniques for graduate medical education; rural workforce pressures in Maine; diversity, equity and inclusion in rural spaces and more.
As the MERGE Collaborative event is taking place, the Collins Center will be the location for a series of research symposium presentations about artificial intelligence applications in health, breast cancer tissue imaging, proteins and cell signaling, bone marrow, muscular dystrophy research, osteoporosis, dementia, obesity and diabetes, to name just a few.
"This symposium showcases the advanced cutting-edge research taking place in Maine's public and private academic institutions, health care systems and private industries as it relates to biological and physiological disciplines, medicine, biomedical engineering and data science," said Tanya Pinkham, assistant director for development and administration at the UMaine Institute of Medicine. "This event allows Maine scientists to network and share information in ways that will benefit their own research and the pursuit of knowledge being undertaken by others."
October 25–26 will also include separate poster sessions and receptions from 4:30–6:30 p.m. in the Hudson Museum. During these sessions, posters summarizing research conducted by college faculty members, undergraduate students and graduate students will be on display. Student researchers will be standing next to their posters to answer questions from the public and judges. Judging will be conducted by faculty members from multiple universities, as well as industry leaders from biomedical and health care organizations.
One of the individuals who will have a poster on display is UMaine graduate student Lucas Bennett, a Ph.D. candidate in biochemistry and molecular biology. According to Bennett, his research benefited from being able to work with a fluorescence photoactivation localization microscopy (FPALM) microscope.
"While there aren't very many of these types of microscopes in the world, there is one at the University of Maine. And the professor who developed this research technique, Dr. Samuel Hess, also teaches here. I don't think I would have had the opportunity to do this specific type of research anywhere else in the world," Bennett said. "Being able to participate in groundbreaking research like this makes every day an adventure in scientific discovery."
Sponsors for the second annual Maine Research Symposium on Biomedical Science and Engineering include the Bioscience Association of Maine (BIOME), UMaine's Graduate School of Biomedical Science and Engineering (GSBSE), MDI Bioscience, IDEXX, the Maine Technology Institute (MTI) and SimKit. Visit the symposium website for more information.
Contact: Eric Gordon, office: 207.581.3745, cell: 207.298.7254; eric.b.gordon@maine.edu