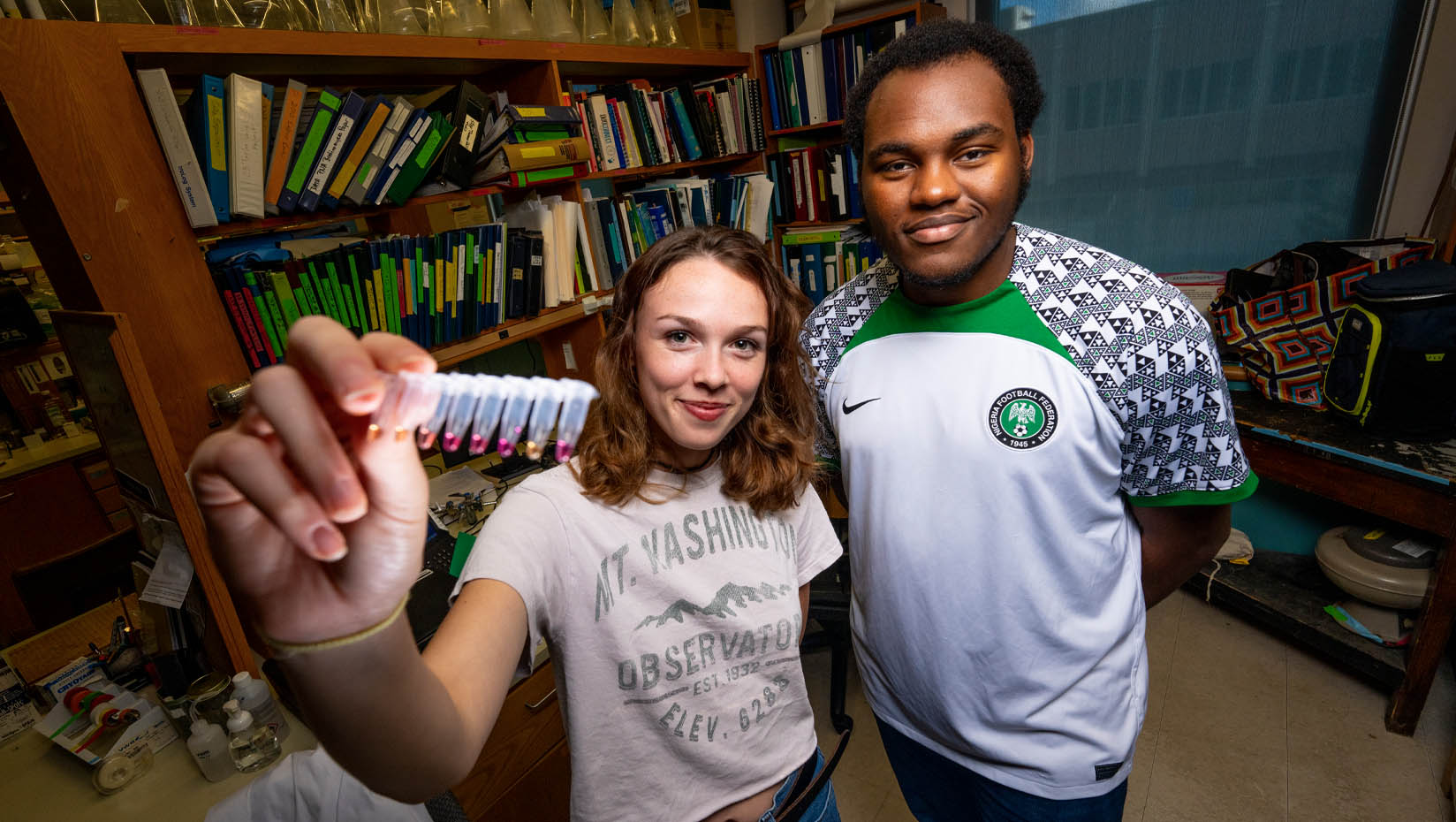 Cindy Bellavance and Oluwadamilola Kolawole: Streamlining conservation research
Student researchers Cindy Bellavance and Oluwadamilola Kolawole are transforming DNA testing strategies. Through a grant from the Center for Undergraduate Research (CUGR), the rising University of Maine seniors are testing technologies that will increase the speed and precision with which researchers test for genetic markers in the environment.
Bellavance and Kolawole are working with loop mediated isothermal amplification (LAMP) assays, which amplify eDNA markers in soil or water samples, revealing all of the species of plants or animals that are present in that area. This technology yields the same information in its results as traditional and commonly-used polymerase chain reaction (PCR) testing, but it is faster and more cost-effective.
Bellavance and Kolawole hope to use this technology to aid in the conservation of the blue spotted salamander and some threatened dragonfly species in Maine. Their samples are mainly shared from other graduate students doing their own projects, but Bellavance has gone out to collect samples from areas they feel will represent well the populations of species they are looking to protect.
Bellavance moved to York, Maine, from Connecticut when she was in middle school, and eventually moved to Sanford for high school. At UMaine, she majors in zoology.
"Maine is a great environment to do this research. There are so many different species that need our help and Maine is really willing to help them because everyone appreciates them more up here," says Bellavance. "I've learned to love the outdoors and everything that the natural world has to offer here [in Maine]."
Kolawole grew up in Nigeria, Africa, and came to Maine for college in 2020, where he majors in biomedical engineering. While Bellavance focuses on the technology's implications for conservation, Kolawole is interested in how he can use his knowledge of engineering to optimize the LAMP process and accelerate research.
"It's not fun to wait," says Kolawole. "If it's possible, we want something faster and better [than PCR]. We're really just looking for speed and precision."
The technique of PCR that is still largely used by researchers takes hours to produce results, meaning that some sample sets could take years or an entire career to fully quantify. The LAMP assay can produce these same results in 10 to 20 minutes. While PCR shows the presence of certain genetic markers by creating curves on a graph, LAMP represents the genetic markers in a color gradient that goes from hot pink to yellow, becoming more yellow the more a genetic marker is present in the sample. Both students say that watching the color gradient change and making sense of the results has been one of the most interesting and fun parts of this research.
Pete Avis, adjunct professor and cooperating faculty at the School of Biology and Ecology, and Erin Grey, assistant professor of aquatic genetics at the School of Biology and Ecology, serve as advisers for the project.
"Working with Dami and Cindy has been great. They are both sponges, soaking up knowledge and research experiences in the lab and field," says Grey. "They also are great at maintaining positive attitudes in the face of failure. This is perhaps the most important quality for science!"
Bellavance and Kolawole are already looking to ensure that the passions they are building on now will be incorporated into their future careers. After graduating, Bellavance would like to work for a government facility as a wildlife or conservation biologist. Kolawole plans to leave Maine after graduation and travel to another country to attend medical school, eventually returning to Maine to work as a medical doctor.
Bellavance and Kolawole's project ends in mid-September, but both students feel that what they are doing with the LAMP assays will positively impact their career paths as it is likely they will use this technology again in the future.
This story was written by Erin Cabral, 2023 Summer Intern at the UMaine Division of Marketing at Communications.
Contact: Marcus Wolf, 207.581.3721; marcus.wolf@maine.edu