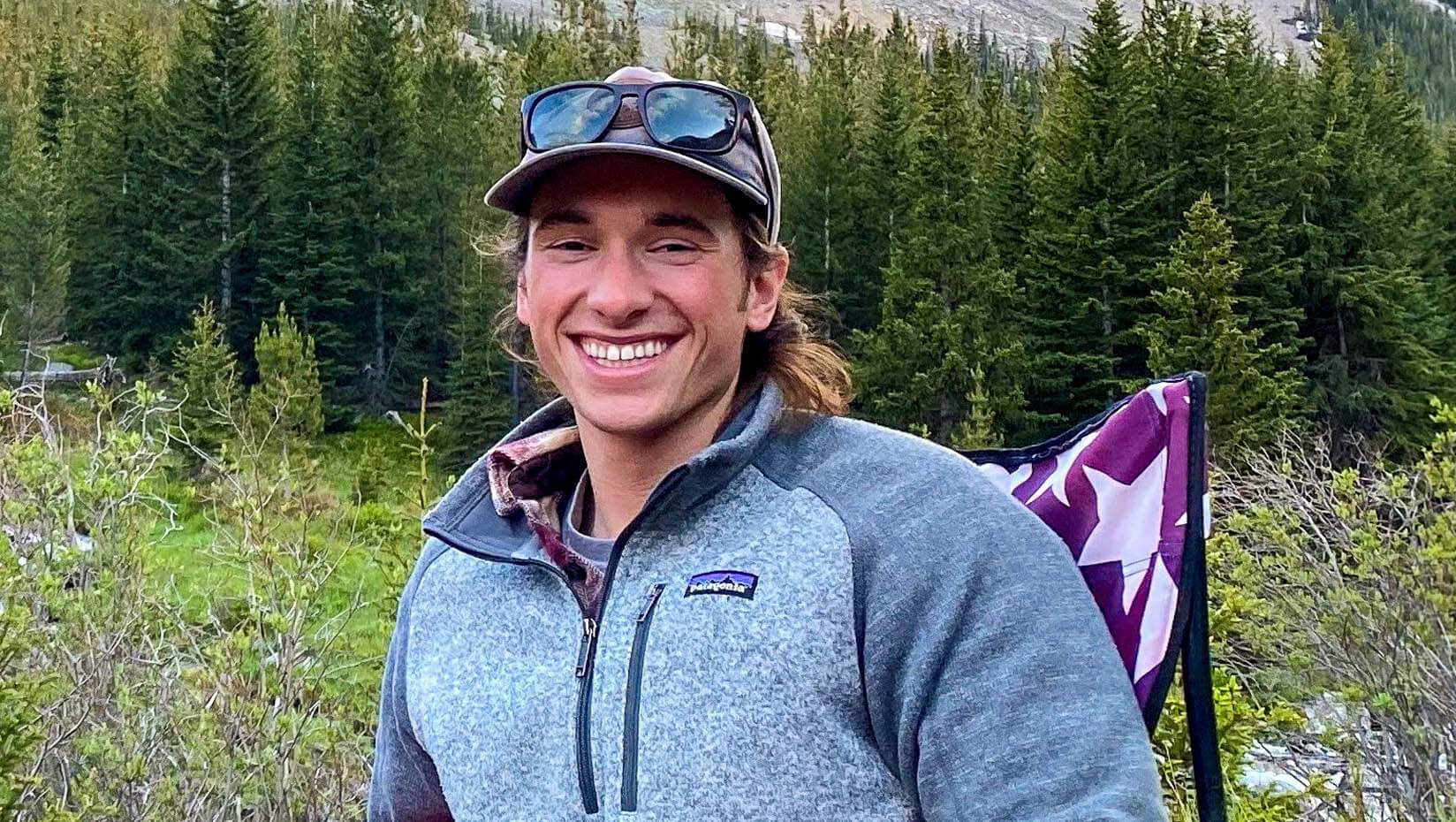 Peter Breigenzer: Preserving forests as a woodsman and scientist 
Peter Breigenzer of Glasgow, Montana, fell in love with forestry while working in the woods with multiple crews over the past several years. When he decided to attend graduate school, he searched for a program that would marry his passion for outdoor work and research, and teach him how to sustainably manage forests.
Now more than 2,000 miles from home, Breigenzer is enhancing his knowledge and conducting biophysical and social science research to help scientists, foresters and landowners protect woodlands from climate change through a unique interdisciplinary training program at the University of Maine.
Breigenzer, who is pursuing a master's degree in forest resources, is one of many students who are participating in a National Science Foundation Research Traineeship Program that aims to educate the next generation of environmental conservation leaders. Funded with $2.9 million from NSF, the program offers students interdisciplinary coursework, collaborative research opportunities and conservation internships with state and federal agencies and other organizations. Breigenzer says he chose to study at UMaine to participate in the traineeship.
As part of the NSF-funded program, Breigenzer is investigating how management decisions can affect forest responses to climate change with co-advisors Jessica Leahy, professor of human dimensions of natural resources, and Jay Wason III, assistant professor of forest ecosystem physiology.
"After being here for almost two years, I know I made the right choice," he says. "I feel incredibly fortunate to have such great co-advisors. Jessica and Jay have provided me with valuable guidance and support at every stage of our project."
In collaboration with Leahy, Breigenzer has interviewed private, noncommercial woodland owners — also called family forest owners — throughout Maine and toured their properties to learn about their concerns with climate change and how those worries may have shaped their forest management decisions. Breigenzer says he hopes the project will help instruct foresters on how to best communicate the importance of climate change adaptation to individual and family forest owners and assist with their implementation.
"Prior to starting this project, I had done a lot of reading about 'new' ways to manage forests for climate change resilience, but I got the impression that much of this conversation was siloed within the academic community," Breigenzer says. "Therefore, I wanted to talk to family forest owners directly to see what they thought about managing their woodlands with climate change in mind."
With Wason, Breigenzer has been researching how forest stand conditions affect understory microclimates. Over the past year, they bushwhacked through the Penobscot Experimental Forest and established 60 plots from which they measured microclimate and forest structure traits.
"In general, when we think about future climate conditions, most of our assumptions are based on broad-scale climate projection models that use data from large weather stations established in fields or cities (i.e., Bangor Airport)," Breigenzer says. "These models are useful for landscape level planning; however, they don't reflect the fine-scale variability in temperature and humidity that naturally occurs beneath forest canopies. Therefore, if we want to understand how climate change will affect our future forests, we need to understand how the climate is changing within forests."
While conducting his own research, Breigenzer also served as an intern at the Schoodic Institute at Acadia National Park last year. He worked with its forest ecology division to collect and analyze remote sensing imagery for monitoring and evaluating the conditions of several forests across northern and eastern Maine.
"My biggest takeaway from this internship was how it allowed me to develop my skills related to computer coding and data analysis," Breigenzer says. "Regardless of which career path I eventually take within forestry, these skills will be important for the planning and assessment of different land management regimes."
When he's not conducting research, Breigenzer is out in the field training himself and others to be better foresters. In September 2022, he attended the two-week-long Prescribed Fire Training Exchange, or TREX. During the event, he and other researchers and foresters worked with wildland fire professionals to conduct prescribed burns at Wells Barrens and Kennebunk Plains, and exchanged ideas on how to restore fire-adapted ecosystems.
Breigenzer also serves on the leadership team for the UMaine chapter of the Society of American Foresters, through which he helps facilitate chainsaw safety courses and other professional development opportunities for students studying forestry or other natural science-related subjects.
"The experiences I've gained during my time here are invaluable to my future career trajectory," Breigenzer says. "From the skills I've gained in my classes, to developing multiple research projects, to the personal and professional connections I've made here, I feel prepared to pursue my forestry goals!"
After receiving his master's degree, Breigenzer says he plans to pursue a career as a forester or researcher, and sustainably manage woodlands through "multiple forms of science with localized knowledge and human experience."
Contact: Marcus Wolf, 207.581.3721; marcus.wolf@maine.edu