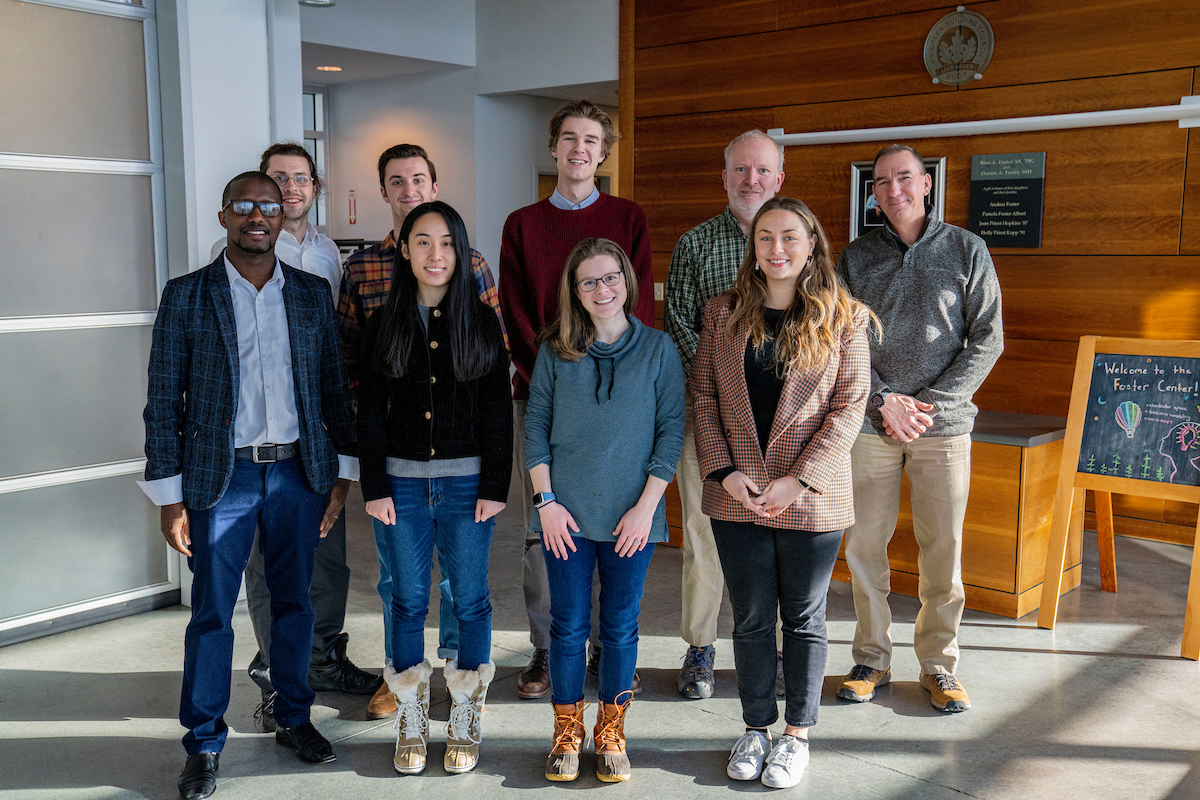 UMaine's MIRTA accelerator program selects five teams for 2023 cohort
Five faculty-led innovation teams have been selected to participate in the fifth cohort of the University of Maine's MIRTA accelerator program. The 2023 projects will develop research innovations in photovoltaic and color changing fabric; utilizing a new technology in catheterization to reduce infection in long-term patients; developing custom-made medical ports for stuffed animals so children can cope with the stress of similar medical procedures for themselves or siblings; a novel non-toxic fire suppressant foam used in fire fighting; and a computer system that can scan pulp for anomalies at the source.
MIRTA, coordinated by UMaine's Foster Center for Innovation, assists teams from Maine research institutions to advance lab discoveries into public and commercial use. Teams work 20 hours a week for 16 weeks doing market research, intellectual property analysis and business model development to bring their inventions to market. Guiding them throughout the process are business incubation staff from the Foster Center.
Additionally, each team has an advisory committee of industry and technology experts who provide feedback and advice. The teams are eligible for up to $25,000 each to help develop commercialization implementation plans.
This year, MIRTA is piloting two new programs: hosting three Business Fellows — Taylor Boucher, Xander Karris and Japhet Murenzi. All three are MaineMBA students in the Graduate School of Business. Also new this year, a MaineHealth team, led by Bethany Sweet, is participating in this MIRTA cohort and has been matched with MIRTA Business Fellow Taylor Boucher.
To kick off the program, this year's cohort recently completed an immersive boot camp designed to introduce them to all aspects of the commercialization process.
Commercialization plans vary depending on the type of invention a team brings to MIRTA, and the result could be starting a new company or licensing to an existing one.
From the 21 teams in the first five MIRTA cohorts, eight new startups have been formed, seven patents have been filed or issued, and the teams have collectively raised more than $2.5 million in external funding and prototype sales to support ongoing commercialization.
Companies that have been formed after participation in MIRTA include Neuright, winner of the $25,000 David Shaw prize at the statewide Top Gun accelerator program in 2019, and UNAR Labs selected to join the first cohort of the Roux Institute Startup Residency Program in 2021. In 2022, Waved Medical was the first runner up in the Greenlight Maine Collegiate edition and was also the winner of Maine Venture Fund's "Maine Startup Challenge" for the collegiate tier.
MIRTA is made possible by support from the University of Maine System Research Reinvestment Fund (RRF) and the Maine Technology Institute. RRF is a pool of competitive internal grants allocated to advance research projects along the path from discovery to becoming commercial products with public benefit. All projects are tied to Maine businesses or industries critical to the future of the state.
The MIRTA 6.0 teams are:
INTELLI-TEX
Color-changing textile yarns and photovoltaic power-producing Textile Yarns that can be woven into consumer-grade products.
Team: David Erb, Senior R&D Program Manager, Advanced Structures and Composites Center; and Christopher Erb, UMaine senior in mechanical engineering
SeekInsight: AI Fiber Characterization Tool Delivers New Insight for Papermakers
SeekInsight provides papermakers with more comprehensive fiber identification capabilities than previously possible, without the inconvenience of human labeled data, better enabling quality, research, and product managers to control their pulp composition, improve product properties and adapt to new material trends.
Team: Douglas Bousfield, Calder Professor, Department of Chemical and Biomedical Engineering; Tyler Seekins, Ph.D. candidate; Andre Khalil, Director of CompuMaine Lab
PROCatheter
A bio-inspired coating on commercial catheter surfaces that can reduce the need for antibiotics making them safer for patients by minimizing both protein and bacterial adhesion to the catheter surface as well as the spread of bacteria to other organs.
Team: Caitlin Howell, Associate Professor, Department of Chemical and Biomedical Engineering; Japhet Murenzi, MaineMBA student
Firefighting BioGel
Bio-derived gel that can offer an environmentally friendly novel material for firefighting, that is both safer for the environment and for those fighting fires.
Team: James Anderson, Senior R&D Program Manager, Advanced Structures and Composites Center; Xander Karris, MaineMBA student.
Play Portal
The Play Portal™, is a fully simulated 3D printed port-a-catheter that is inserted into stuffed animals and dolls and given to pediatric patients who have port-a-catheters. This can help young patients feel more at ease with their medical device if they have a friend to share the experience with.
Team: Bethany Sweet, Certified Child Life Specialist, MaineHealth; Taylor Boucher, MaineMBA student.

About The Foster Center for Innovation
The Foster Center for Innovation is the hub of innovation-focused activities at the University of Maine and the state's leading resource for innovation and commercialization, serving both the campus community and outside businesses and organizations. The center is part of the university's Office of Innovation and Economic Development, which links businesses and communities to university experts and first-class facilities to solve problems and innovate Maine's future and builds strategic partnerships between public- and private-sector groups and individuals to advance prosperity in our state.
Contact: Katy England, katharine.england@maine.edu