$4.8M will upgrade Forest Bioproducts Research Institute facilities, bolster bioproduct research
The University of Maine Forest Bioproducts Research Institute (FBRI) will upgrade its Technology Research Center (TRC) in Old Town and Process Development Center (PDC) in Jenness Hall to bolster ongoing efforts to create new bioproducts, increase production and find uses for woody biomass materials typically considered waste.
The Defense Logistics Agency (DLA) awarded FBRI $4.8 million for its research in crafting renewable fuel, heating oil, chemicals, plastics and other goods from woody biomass at a large scale. Institute director Hemant Pendse says his team will invest about $2 million in processing technology infrastructure improvements for the off-campus TRC facility, as well as the on-campus PDC facility, with the balance supporting ongoing research.
Equipment added to TRC, located on the pulp mill site in Old Town, will help researchers process biochar, charcoal derived from the pyrolysis of wood, as well as pre-process biomass. Upgrades at PDC will boost nanocellulose production.
"It's a significant upgrade in our pilot-scale infrastructure," says Pendse, also a chemical engineering professor. "This significant investment will allow us to rapidly advance development in several major areas of ongoing research."
New equipment at PDC will allow the production of nano-fibrillated cellulose starting with wood chips or sawdust particles. Currently, PDC produces nanocellulose from pulp, and the ability to make the substance from coarse wood particles will help divert lumber byproducts from the waste stream.
"Nanocellulose, liberated from wood, has unique properties that make it ideal for use in sustainable packaging and many other applications when looking for alternatives to fossil-fuel based chemicals," says Colleen Walker, PDC director.
"This new equipment highlights UMaine's position as being the heart of Nanocellulose Valley — the unrivaled center for nanocellulose innovation."
The new tools also will help FBRI create a variety of organic acids from woody biomass such as sawdust, and assess the prospects for beneficial uses of biochar, which is typically viewed as a waste byproduct. Biochar has potential for application as a carbon-sequestering additive in both soil (to improve soil quality) and concrete (to improve strength and permeability).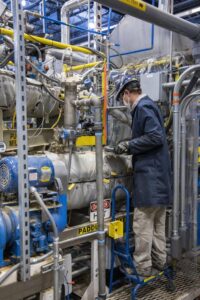 An enhanced facility will help institute researchers simulate the commercial-scale production of a variety of biobased goods, particularly biomass-derived jet fuel and diesel. Amy Luce, TRC manager, says, "The updates will allow FBRI to streamline and integrate the processing between multiple pilot plants at the off-campus Technology Research Center and the Process Development Center on campus, collect data on the manufacturing technologies for different co-products, and study and tackle material handling issues. Students will be able to use these top-quality tools to advance their education in engineering, materials processing, process control and other related fields."
The FBRI team expects to procure the equipment by mid-2021, and Pendse hopes to have a demonstration for the updated facility within the next two years. Pendse will serve as principal investigator for the initiative, while Luce and Walker will serve as co-principal investigators.
"To me, it's exciting that we could do many things at the same time," Pendse says about the multiple upgrades. "To make progress in this field, that's what we need."
The institute aims to demonstrate that forest-based products can be manufactured at a commercial scale to replace fossil-fuel derived counterparts and inspire the creation of a biorefinery in Maine. Other goals include supporting new revenue streams for pulp and paper and building product makers and providing options for repurposing brownfield sites.
FBRI is actively engaged with Maine's forest industry stakeholders and is a key collaborator in Forest Opportunity Roadmap / Maine (FOR/Maine), a coalition focused on identifying new markets for Maine wood products and advancing technology innovations to commercialize new uses of wood. The institute's work is supported by the Maine Economic Improvement Fund.
Several federal agencies have contributed a cumulative $48 million toward the research enterprise of the institute, including the NSF, Department of Energy, Department of Transportation and U.S. Department of Agriculture. The Defense Logistics Agency awarded an overall $22.9 million toward the institute over the years through its Energy Readiness program. FBRI has been working on multiple contracts for the agency, particularly involving the production of its TDO-derived, biobased jet fuel and oil.
"DLA has been a great supporter," Pendse says. "It's helped us over the last few years with a substantial infusion of investments that have really accelerated our ability to undertake the entire enterprise."
Contact: Marcus Wolf, 207.581.3721; marcus.wolf@maine.edu