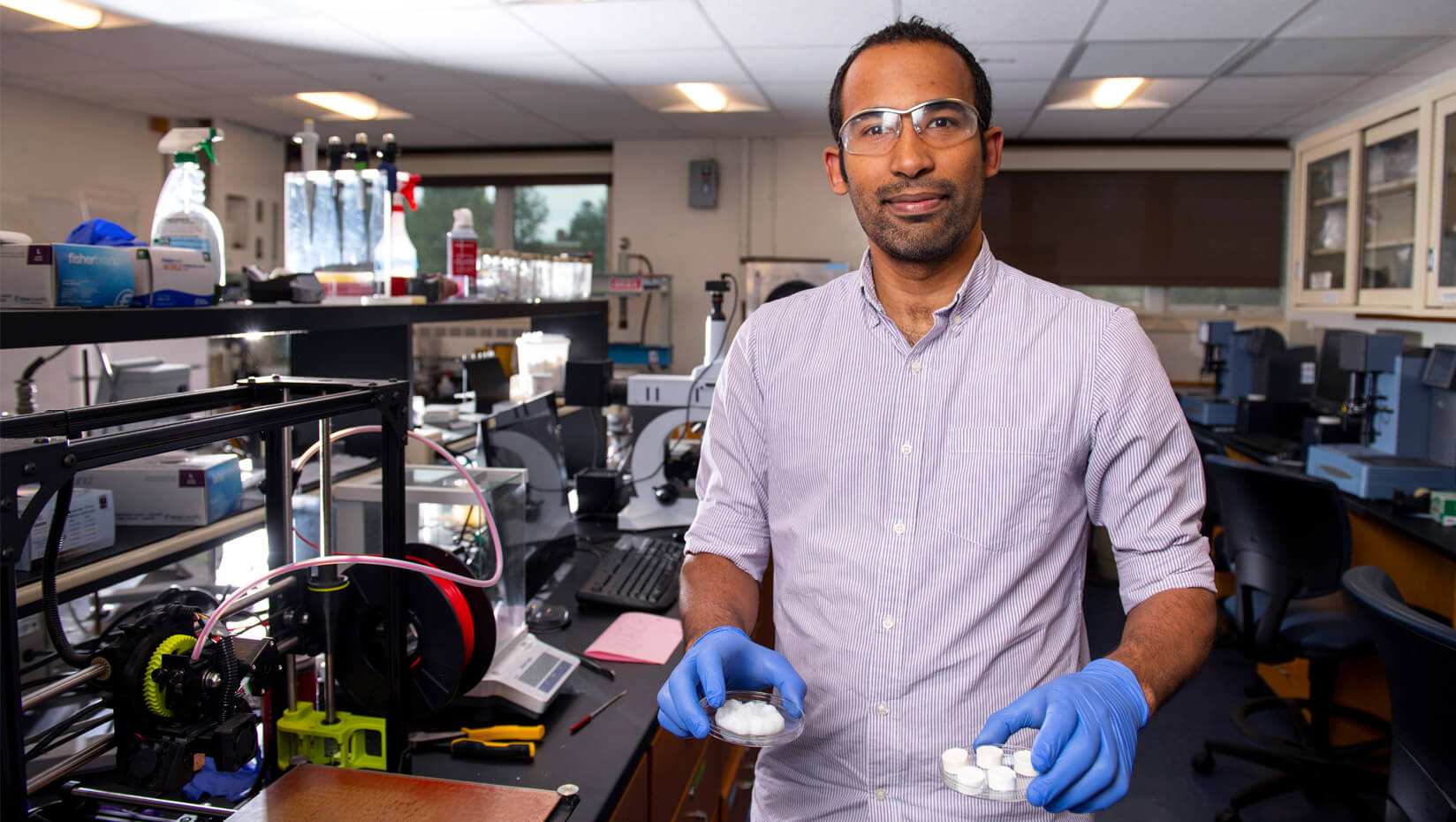 Hafez to develop nanocellulose-based system to remove arsenic from drinking water 
Islam Hafez will develop a nanocellulose-based point-of-use purification system that removes arsenic from drinking water.
The United States Department of Agriculture awarded the postdoctoral researcher in the School of Forest Resources at the University of Maine $132,403 for the two-year project. The university is contributing $67,216 toward the project.
"I like my work to be meaningful," says Hafez, who seeks to apply science to real-world problems. "I want to feel like I'm contributing to improving people's health and the environment."
Arsenic, which occurs naturally in rocks and soils, is a threat to public health in the United States and many other countries. It's recognized that at least 140 million people in 50 countries have been drinking water containing arsenic at levels above 10 µg/L (the allowable level of arsenic in drinking water).
In the U.S., arsenic has been associated with severe health problems, including cancers, respiratory diseases and neurological problems. A large number of people living in the U.S., especially in rural and suburban areas with wells, are still exposed to levels greater than 10 µg/L, says Hafez.
Hafez expects the nanocellulose-based purification system to be low-cost, lightweight, strong and efficient. Nanocellulose — which is made from plant matter — is 1/100,000th the width of a human hair.
His goal is to develop the new purification system and to increase the system's technology-readiness level for commercialization.
And he's got an ideal spot in which to do that.
Hafez is a member of Mehdi Tajvidi's Laboratory of Renewable Nanomaterials (LRN) at UMaine. The lab specializes in alternative applications of cellulose nanomaterials, with an emphasis on large-volume production and end uses.
Hafez will work with Tajvidi, whose research group has been awarded more than $3.2 million in grant funding to advance the science and technology of renewable nanomaterials.
Hafez also will work with Aria Amirbahman, a professor of civil and environmental engineering; and Jinwu Wang, a research forest products technologist at UMaine and a research scientist with the USDA Forest Service.
The team is collaborating with A.O. Smith Corp., a $3 billion global water treatment company based in Wisconsin.
In addition to removing arsenic from drinking water, Hafez says the project is expected to reduce forest fires and boost the bio-based economy, thereby helping to revitalize the forest industry.
Wildfire is generally a result of accumulation of forest biomass, says Hafez. Using forest overgrowth to produce nanocellulose could improve forest health and reduce forest management expenses. In 2017, for instance, forest fire costs totaled more than $2.4 billion, according to the USDA.
Hafez earned his doctorate at the University of Minnesota. William Tze, Hafez's adviser there, was awarded his Ph.D. in forest resources in 2003 at UMaine.
This research aligns with the University of Maine System Research and Development Plan.
Contact: Beth Staples, 207.581.3777, beth.staples@maine.edu