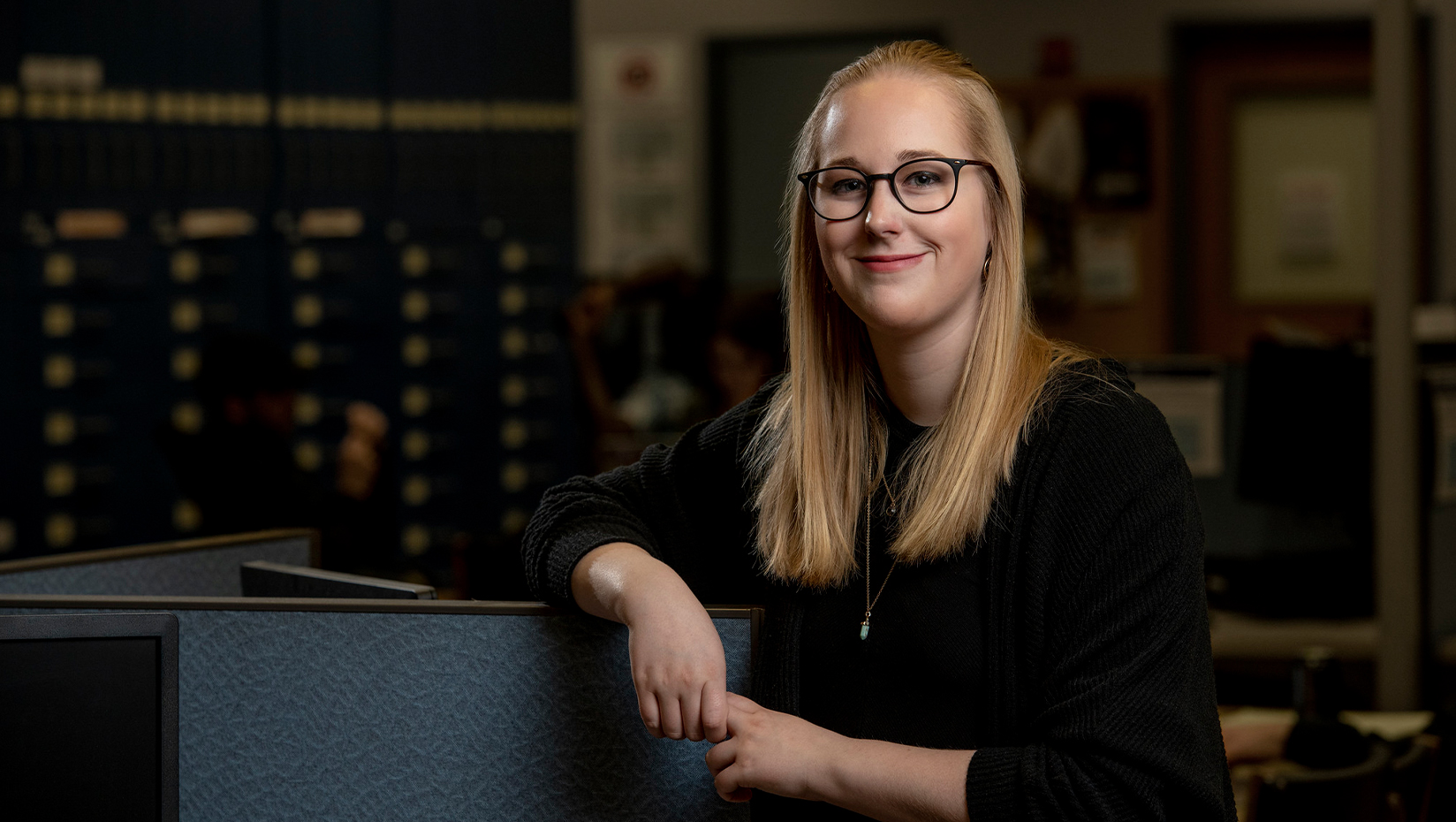 Olivia Reese: Media studies major examining influence of social media
Junior Olivia Reese of Pittsford, New York is one of the second wave of Clement and Linda McGillicuddy Humanities Center Undergraduate Fellows at the University of Maine.
The media studies major says she is passionate about her chosen field for many reasons.
"Media studies touches on anything projected out to a mass audience. It's about how communication affects us, how we affect it, how it evolves with technology and with our experience of that technology," she says.
"Everything that can affect us on a massive scale is media studies. I had no idea how much we were influenced by the media. It overwhelms me sometimes that I can apply everything I'm learning to real life — sometimes even later in the day after class."
During her college search, Reese and her father thought UMaine looked promising. Despite the fact that she'd never been to Maine, Reese and her parents made the trip.
"It was the middle of winter, and I was really quiet during the tour, so my mom thought I hated it — but I didn't; I loved it. I just had this feeling that this was the school for me, that this is what college should be. It was what I always imagined — complete gut instinct, but the right gut instinct," she says.
What Reese loves about UMaine, she says, is the opportunities it provides.
"I feel like I use that word a lot," she says. "But it's the word that always comes to mind when I think about UMaine. There's the opportunity to take part in different research projects, to cultivate relationships with professors and to learn from them. Like my mentor, Judith Rosenbaum — she's inspired me, encouraged me, and pulled me out of my comfort zone, giving me the confidence that I could actually do work like my fellowship project."
The project revolves around the idea of applying George Gerbner's cultivation theory, which essentially states that people who watch television frequently will be affected by its messages.
"I want to apply a modern take to that theory to something as polarized as TV, namely the Twitter-sphere," she explains. "Is social media affecting the way we see the world, and will it continue to do so? There's not much research on social media because it's so new. I want to see if it tells us something new about the world we're living in."
The humanities, she insists, also tell us something new about our world.
"The arts play such a vital role in perspective — they inspire us, drive us, involve us in life beyond work and study. Understanding the humanities is understanding yourself, and to lose touch with that would be a tragedy," she says.
The McGillicuddy Humanities Center Undergraduate Fellows program offers junior and senior humanities students the support needed to concentrate on their coursework and develop research projects, work collaboratively with a select group of peers, participate in interdisciplinary humanities programs, and gain professional skills. Fellows attend, help plan, and promote the center's various programs, putting them in meaningful contact with their peers and faculty, as well as the public. Fellows also act as student representatives of the center's mission on campus and in the community.