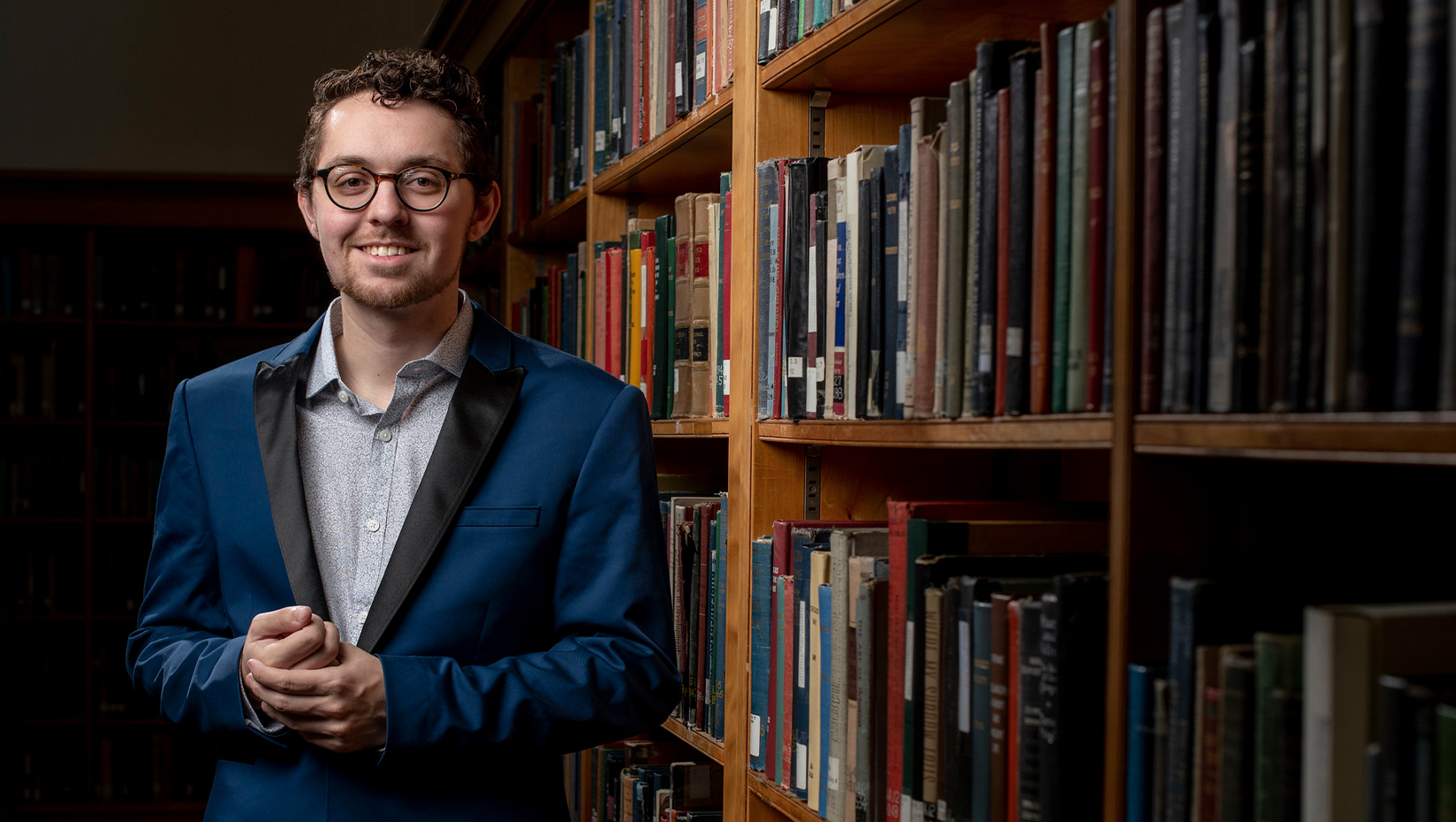 Connor Ferguson: Aspiring writer thrives with support from 'receptive' English faculty
Fifth-year student Connor Ferguson is one of two in the next Clement and Linda McGillicuddy Humanities Center Undergraduate Fellowship cohort at the University of Maine.
The Iowa native is an English major with an emphasis in literary analysis and a minor in creative writing.
After looking at several colleges in the area, Ferguson chose to transfer to UMaine because of its "robust English department and receptive faculty."
Though Ferguson has been at UMaine for less than a year, he has already made a significant impact. Besides becoming an MHC Fellow, he also was chosen through UMaine's Writing Center to present at the Northeast Writing Centers Association (NEWCA) Conference in March at Western Connecticut State University.
"I find UMaine so adaptive, personable and receptive. The faculty really listen to you and take your ideas and opinions into consideration," he says.
That receptivity is how he came up with his fellowship project.
"I was taking a course with Laura Cowan, and we were studying the poet Wilfred Owen," Ferguson says. "I noticed that his gay identity had all but been erased by academia, so I brought it up with her, and she adjusted the way we talked about him in class. That kind of helpfulness is not something I've come across in my previous college experiences."
Ferguson's project revolves around "reviving queer authors in the canon, primarily modernist era authors," he says, "because that's where erasure of queer identity becomes prevalent. We seem to privilege people with mainstream identities, but if we're looking to place literature in a sociocultural perspective, we need to include queer people, as well. I think it's important to understand the place of sexuality in influencing literature."
Cowan, an associate professor of English at UMaine, has been a key mentor for Ferguson during the project.
"She's a superstar — she's been so supportive. I'm a nontraditional student, working three jobs, living off campus, and she's been so helpful in supporting my life as a student," he says.
In addition to studying authors, Ferguson hopes to be one himself.
"I love the fantasy genre," he says. "That genre is an underutilized tool — it's a way to make literature more accessible to a larger audience."
Other aspirations include attending the Iowa Writers' Workshop after graduating next fall, as well as establishing a "multicultural writing center satellite, staffing it with people who focus on safe spaces and identify with minority groups."
"I think we need to diversify educators," he says, "because people who don't see themselves in academia are less likely to seek academic help."
Ultimately, Ferguson wants to open minds and tell stories.
"I'd love to write a novel in every genre — fantasy, horror, sci-fi, mystery. I want to tell important stories."
The McGillicuddy Humanities Center Undergraduate Fellows program offers junior and senior humanities students the support needed to concentrate on their coursework and develop research projects, work collaboratively with a select group of peers, participate in interdisciplinary humanities programs, and gain professional skills. Fellows attend, help plan, and promote the center's various programs, putting them in meaningful contact with their peers and faculty, as well as the public. Fellows also act as student representatives of the center's mission on campus and in the community.