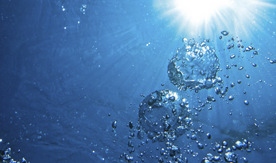 Director of Darling Marine Center Co-chairs International Ocean Optics XXII Conference
Oceanographers, water-quality experts and satellite remote-sensing scientists from around the world will shine light on developments in ocean optics and their application to environmental issues at a conference Oct. 25–31 in Portland, Maine.
Mary Jane Perry, interim director of the University of Maine Darling Marine Center in Walpole, is co-chair of the conference, Ocean Optics XXII, being held at Holiday Inn by the Bay.
"The conference gives optical ocean scientists from all over the world an opportunity to meet every two years to share ideas and exchange techniques," says Perry. "Such communication among professionals and students is key to advancing science and developing new ways to use optics to solve ocean problems."
Conference co-chair Steven Ackleson, oceanographer at the United States Naval Research Laboratory in Washington D.C., agrees.
"Optical observations of oceans on Earth are imperative," he says. Many core environmental issues related to climate change — the carbon budget, harmful algal blooms, environmental-based management and human health and recreation — "require knowledge of how light interacts with the marine environment, the ability to monitor conditions in near real time and the capability to predict future conditions."
Attendees from 38 countries can attend eight plenary sessions, including one led by Don Perovich of Thayer School of Engineering in Hanover, New Hampshire, who will discuss "Sunlight and Sea Ice in a Changing Arctic."
There also will be nearly 50 shorter discussions and more than 200 posters presented on a variety of topics involving ocean optics.
UMaine researchers and graduate students are well represented. Perry, UMaine marine scientist Ivona Cetinic, and UMaine graduate Wayne Slade are reporting on their work this past summer in the Gulf of Maine that combined ship, aircraft and satellite measurements to monitor phytoplankton species. They also will report on another summer field project that used robots to study the distribution of phytoplankton under the ice in the Arctic Ocean.
UMaine professors Emmanuel Boss and Fei Chai, and graduate students Nathan Briggs and Alison Chase are also among the conference presenters.
In addition to the scientific presentations, author Robert McKenna will give a talk titled "Smuggling at Sea During Prohibition: The Real McCoy, the Bootleg Queen, Rum Row and the Origin of the U.S. Coast Guard."
To view the complete agenda, visit, tos.org/oceanopticsconference/welcome.html.
Contact: Beth Staples, 207.581.3777