Welcome
Welcome to Native American Programs at the University of Maine!  Here, you can access information about Native American Studies, the Wabanaki Center, the Native American Tuition Waiver and Scholarship Program, and information about University of Maine programs that promote, support and provide educational opportunities for and about Wabanaki peoples across the State of Maine and beyond!
---
Running with Purpose; An evening Discussion with 

Jordan

 

Daniel

 '11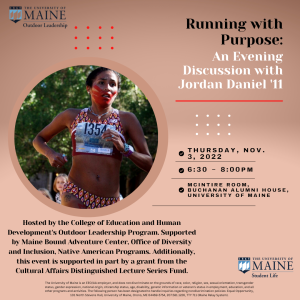 University of Maine Wabanaki Center gift to benefit student success

Raising our Voices on Race and Racism

Monday ,

November 30th

from

4-5pm
Virtual via Zoom, Free and Open to the Public


REGISTER AT:

https://forms.gle/QkZobyEPXYRatYBw7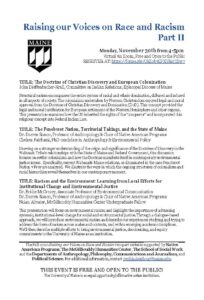 Unpacking the Maine-Wabanaki Studies Law (LD 291) Past, Present and Future


November 18, 2019


Video Recording
• Dr. Rebecca Sockbeson, UMaine Visiting Libra Professor, University of Alberta
• Donna Loring, Senior Advisor on Tribal Affairs to Governor Mills and Author of LD 291
• James Francis, Director, Penobscot Nation Cultural and Historic Preservation Department
• Dr. John Maddaus, Professor of Education (Retired) • John Bear Mitchell, Educator and Wabanaki Center Outreach and Student Development Coordinator
• Dr. Darren Ranco, Chair of Native American Programs
• Maulian Dana, Penobscot Nation Ambassador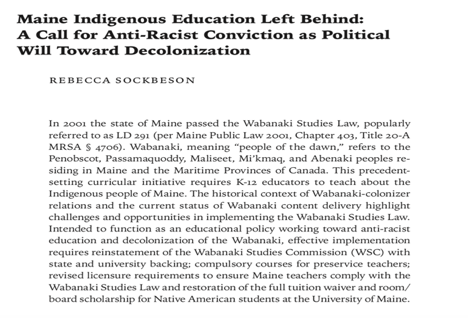 Penobscot signs at UMaine point out 'book house,' 'place where you play a variety of games'
July 25, 2019
https://bangordailynews.com/2019/07/25/news/bangor/penobscot-signs-at-umaine-point-out-book-house-place-where-you-play-a-variety-of-games/
Bilingual signage — English and Penobscot — now at UMaine
July 17, 2019
https://umaine.edu/news/blog/2019/07/17/bilingual-signage-english-and-penobscot-now-at-umaine/
One of our students.  Congratulations Brady!
Panthers prospect Keeper 'role model' to aboriginal youths.
Historic Signing of Memorandum of Understanding with the Penobscot Nation
http://www.wabi.tv/content/news/Penobscot-Nation-UMaine-sign-MOU-for-tribes-cultural-heritage-482334751.html
Full text of document can be found here.
Media related to the MOU
http://www.mainepublic.org/post/penobscot-nation-and-university-maine-chart-future-documenting-past#stream/0
University of Maine Land Acknowledgement
The University of Maine recognizes that it is located on Marsh Island in the homeland of the Penobscot Nation, where issues of water and territorial rights, and encroachment upon sacred sites, are ongoing.  Penobscot homeland is connected to the other Wabanaki Tribal Nations—the Passamaquoddy, Maliseet, and Micmac—through kinship, alliances, and diplomacy.  The University also recognizes that the Penobscot Nation and the other Wabanaki Tribal Nations are distinct, sovereign, legal and political entities with their own powers of self-governance and self-determination.