MSTI 2012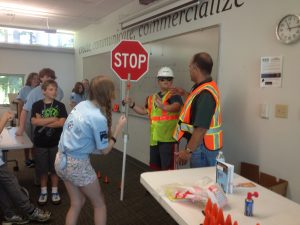 Maine Summer Transportation Institute (MSTI) was held for the 5th time in 2012 for 20 middle school students with a full scholarship from July 9– July 20, 2012 in the Foster Student Innovation Center.  The purpose of the Institute was to create awareness and stimulate interest in students to take full advantage of the opportunities that exist in the transportation industry.  The Institute was an extremely intense and structured learning opportunity for youth in the middle school systems of Maine. The objectives remained pretty much the same as they were in our first year of MSTI except for some activities that were changed to further strengthen the program.
Out of the 31 applicants, 10 girls and 10 boys from 8 Maine middle schools from the Greater Bangor area were selected for the non-residential 2 weeks program. The MSTI activities exposed students to different engineering careers related to transportation.  They learned about designing highways, bridges, and airports, sustainable transportation, safety in road, air, and water, alternative fuels, construction materials, transportation of people and cargo, transportation related laws, regulations, and safety, and career opportunities.  Students participated in hands-on lab projects, safety training, computer aided design (CAD) practice, field trips to transportation museums and facilities, and engineering labs, and recreational activities at the Student Recreation Center.  One of the highlights we added this year was the STARBASE trip where participants got do launch flight simulations of a small plane.
Schools represented were
Brewer Community School, Brewer
Bucksport Middle School, Bucksport
Dr. Lewis S. Libby School, Milford
Glenburn Middle School, Glenburn
Hermon Middle School, Hermon
James F Doughty SChool, Bangor
Orono Middle School, Orono
William S Cohen School, Bangor
 MSTI 2012 Participants
| | |
| --- | --- |
| First Name | Last Name |
| Ian | Bernier |
| Connor | Bray |
| Annalee | Chute |
| McKinley | Doore |
| Earl | Gary |
| Evan | Gaudette |
| Keegan | Gray |
| Michelle | Haverlock |
| Jessica | Hayden |
| Andrew | Howes |
| Samantha | Jackson |
| Grace | Lee |
| Angel Kullick | Loredo |
| Emily | Patrock |
| Lillian | Price |
| Sophia | Selleck |
| Catherine | Stewart |
| Curtis | Voelker |
| Katelyn | Walsh |
| Nathaniel | Wilcox |
Participants used the student recreation facility on campus for swimming except for the fieldtrip days.  They had a great time playing basket ball, racquet ball, table tennis, and track. Everybody had the choice of playing the sport he/she liked.  They also played in the campus garden outside.  Recreation was scheduled as the last activity every day. The MSTI met at the Foster Student Innovation Center (FSIC) on campus every day where they played Foosball.