The University of Maine in Orono has been hosting the two week long Maine Summer Transportation Institute (MSTI) since the summer of 2008 for middle school students in the Foster Student Innovation Center. The purpose of the Institute is to create awareness and stimulate interest in students to take full advantage of the opportunities that exist in the transportation industry. The MSTI is funded by a grant from the Federal Highway Administration (FHWA) and is open to students attending public and private schools in the Greater Bangor Area. The Institute is an extremely intense and structured learning opportunity for youth in the middle school systems of Maine.
The curriculum exposes students to new frontiers and adventures such as highway design, alternative fuels, construction materials, transportation of people and cargo, intermodalism, laws, regulations, safety, and career opportunities. In addition, students participate in computer training, academic enhancement activities, field trips, and student projects.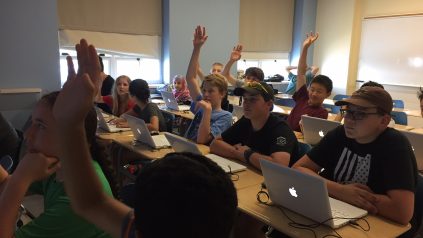 MSTI 2020 Is cancelled because of COVID-19. See you next year!