VOX (Critical Languages Courses) have something to offer every major. The job market is a competitive place and employers are looking for skills that set candidates apart from the other applicants. Be the one who stands out with proficiency in a Critical Language.
IMPORTANT INFORMATION FOR SPRING 2018
1. Recommended deadline for enrollment is as soon as possible, as forms submitted after January 22nd 2018 are no longer time flexible.
2. All VOX courses focus on developing speaking skill and carry three credits
3. VOX classes with fewer than 3 students will not run.
4. Classes have a maximum enrollment of 10 students.
5. All courses listed below satisfy the Cultural Diversity and International Perspectives Requirement.
For course descriptions, see the Course Catalog.
ENROLLMENT INFORMATION
CL New Student Form Spring 2018
Critical Language Courses Typically Offered in Fall Semesters:
Beginning Spoken Irish Gaelic I
Beginning Spoken Japanese I
Beginning Spoken Japanese II
Beginning Spoken Japanese III
Beginning Spoken Korean I
Beginning Spoken Russian I
Beginning Spoken Russian II
Beginning Spoken Italian I
Beginning Spoken Italian II
Intensive Chinese I
Intensive Arabic I
Critical Languages Courses Typically Offered in Spring Semesters:
Beginning Spoken Irish Gaelic II 
Beginning Spoken Japanese I 
Beginning Spoken Japanese II 
Beginning Spoken Japanese III 
Beginning Spoken Korean II 
Beginning Spoken Russian I 
Beginning Spoken Russian II
Beginning Spoken Italian I  
Beginning Spoken Italian II
Intensive Chinese II
Intensive Arabic II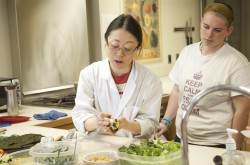 Critical Language Courses Offered Based on Enrollment Demands:
Intermediate Spoken Japanese I
Beginning Spoken Russian III 
Intermediate Spoken Russian I 
Beginning Spoken Portuguese I 
Beginning Spoken Portuguese II