Wabanaki Voices and Heritage Spaces: Advancing Indigenous Community Engagement in Shell Mound Research, Documentation, and Management in Maine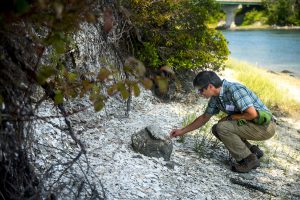 Institution: University of Maine
Sponsor: Senator George J. Mitchell Center for Sustainability Solutions
Archaeological shell mounds along Maine's coast represent important Indigenous heritage spaces that preserve a record of past lifeways and environments. In recent years, the University of Maine has initiated or participated in several projects related to Maine's shell heaps to address their vulnerability and potential cultural loss stemming from climate change impacts (e.g., sea level rise, increasing storm intensity and frequency and freeze-thaw episodes). These efforts include the UMaine Midden Minders citizen science initiative, archaeological collections research at Acadia National Park, engagement with the Abbe Museum's archaeology advisory group, and the UMaine Archaeological Field School in Machiasport, Maine. Cultural heritage sustainability and strengthening Wabanaki communities through cultural preservation are key goals of these efforts.
With support from a partnership development grant from the Mitchell Center for Sustainability Solutions, UMaine faculty members Bonnie Newsom and Alice Kelley and graduate student Natalie Dana-Lolar are working with tribal representatives, the Abbe Museum, Schoodic Institute and Acadia National Park to increase Wabanaki stakeholder engagement in shell heap research, education and management. The project will include a series of webinars focused on the region's coastal shell mounds to help increase knowledge among Wabanaki audiences about the shell heaps and current climate change threats to them. These webinars will be complemented by a Wabanaki community information and listening session at the Wabanaki Holiday Market and Festival at UMaine's Hudson Museum.
Looking beyond the initial funding period, the project team envisions that the engagement in shared goals of cultural heritage preservation will continue with a community of practice for collaborative work on shell mound sites. Consistent with the Mitchell Center's mission, this project contributes to human well-being by supporting Indigenous cultural preservation and continuity.
Project Leads:
Bonnie Newsom, Department of Anthropology and Climate Change Institute, UMaine
Alice Kelley, School of Earth and Climate Sciences and Climate Change Institute, UMaine
Research Team and Partners:
News and updates: